Online trading is becoming an increasingly popular way for investors to buy and sell financial products online. Brokers continue to operate online and offer all forms of financial instruments, including bonds, commodities, exchange traded funds (ETFs) and futures.
ETFs are a relatively new tool in the world of online investing, but they are already popular with traders.
Today we look at what an ETF is, how to invest in ETFs in Hong Kong and how to choose an ETF trading platform.
Investing in ETFs
An ETF is an Exchange Traded Fund. An ETF collects shares in different companies based on some sort of characteristic (e.g. companies that deal in telecoms or cannabis) and creates a fund based on them. Anyone can purchase shares in that fund, becoming the de facto owner of all the shares in which the fund has invested.
An ETF is a handy tool for those who want to invest but don't have time to build a portfolio at all. By investing, for example, in a fund that tracks the IT sector and includes shares of twenty different companies in that sector, we don't have to track each of those companies separately, but rather have the opportunity to see overall performance and trends.Therefore, investing in an ETF frees up time. Also, investing in an ETF is cheaper than investing separately in each company.
The main advantage and benefit of ETFs is the high diversification. You will never be able to achieve as much diversification on your own as you would with the purchase of some ETFs. Based on the fact that the structure of an ETF is quite complex and the market always sees both declines and gains in addition to obvious crises - ETFs are not as volatile. For example, if you buy an ETF for the S&P500 index (there are various options), it will only fluctuate slightly. But individual stocks, which are also part of the index, can show ups and downs.
The risks of investing in ETFs are that there may be losses (if you choose the wrong fund) and there may well be undervalued returns compared to individual sectors.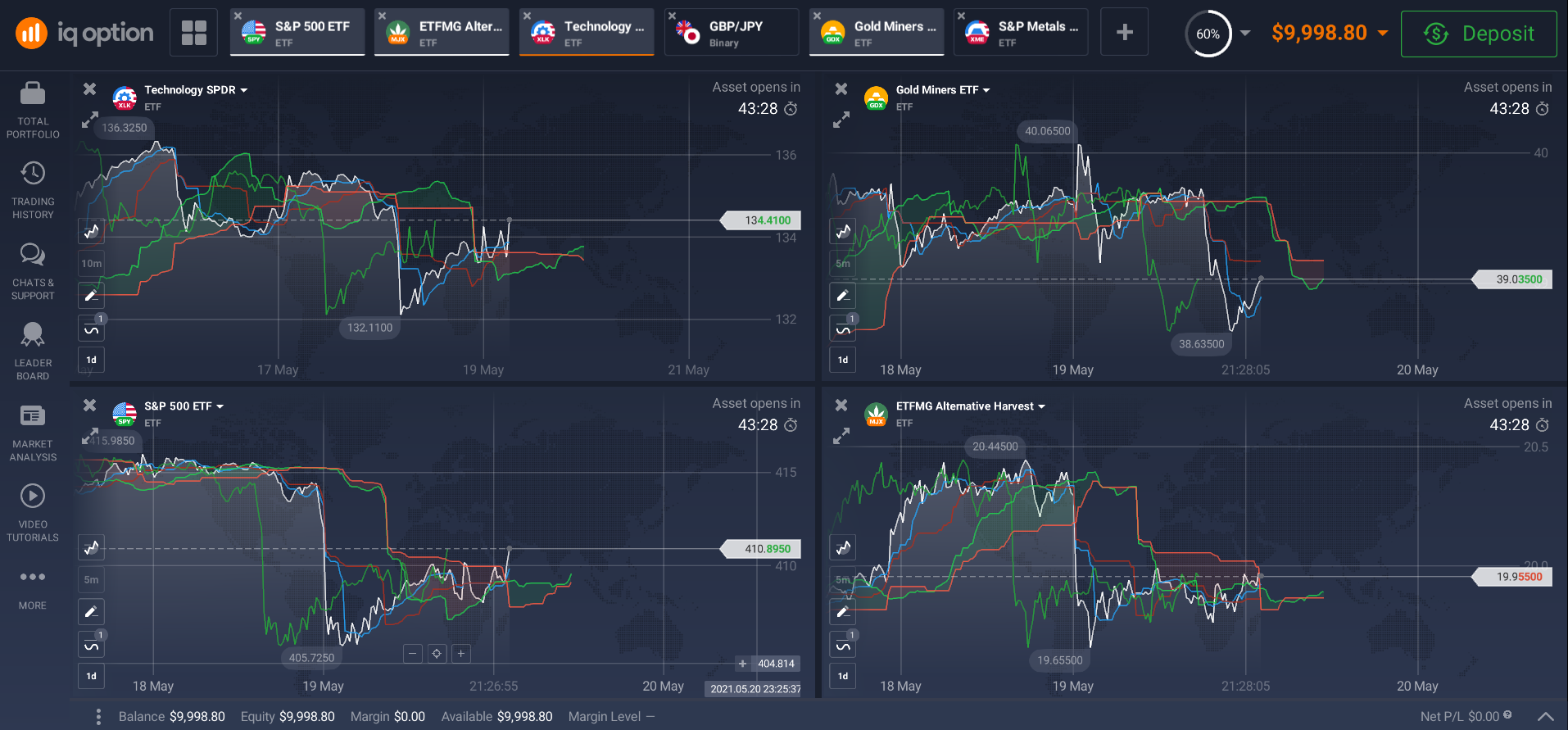 How to invest in ETFs in Hong Kong?
To invest in an ETF in Hong Kong, you will need to take the following steps:
Choose a broker. The Hong Kong brokerage market offers a wide range of brokers operating online. Give preference only to licensed and verified brokers, i.e. those who already have experience in the stock market. Study the reviews of the broker from experienced traders. Consider the trading platform that the broker offers for operation - you should be comfortable with all the features as well as commissions and limits. Logically, the platform should have access to the ETF fund you plan to invest in;
Register on an online investment platform;
Explore the platform's features and tools using a demo account;
Fund a real account;
Study the trading conditions of the chosen ETF and invest.
The platform we have chosen is very user-friendly. The broker is licensed, has good experience in the stock market and has many international awards. Let's look at all the benefits of this platform below.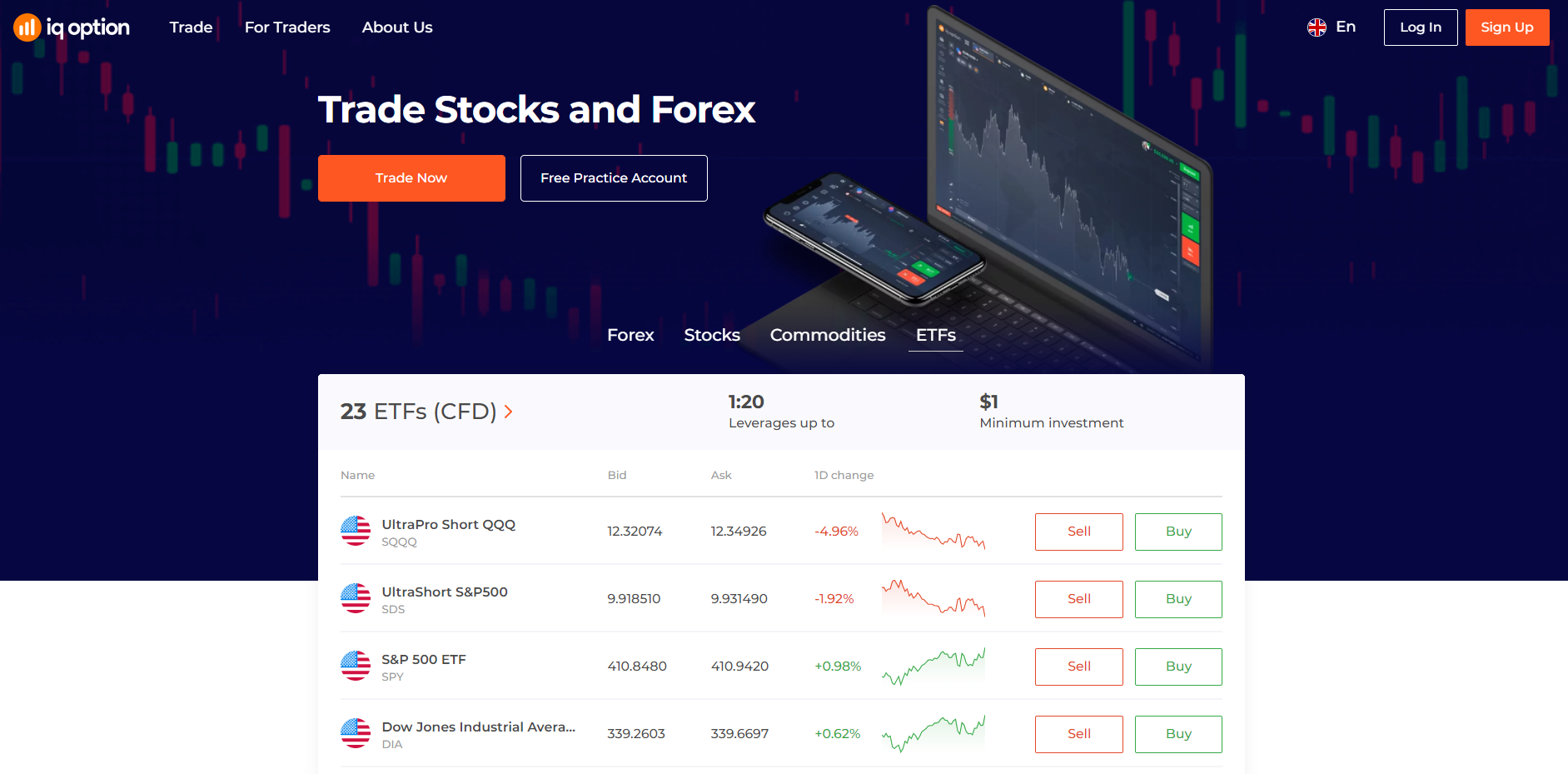 The best ETF trading platform in Hong Kong
Based on the wishes of traders, a brokerage company has created unique software that allows you to trade from the comfort of your own home. Trading software is usually always referred to as a platform, as most brokerages offer access to this trading software from both web and mobile applications.
We chose the ETF trading platform based on its qualities :
Easy to register;
Demo account available;
Convenient depositing options;
Low deposit and withdrawal limits;
Training section;
There are many useful tools for trading;
The platform is easy to customize, based on personal preferences;
Online support is available 24 hours a day.
These are not all the benefits of the platform. Let's look at the most important points in more detail below.
How do I sign up?
Registration is very simple and takes a few minutes. All you have to do is enter your name and email address in the registration window. After confirming your email address, you will be able to log in and see clearly how online investing works.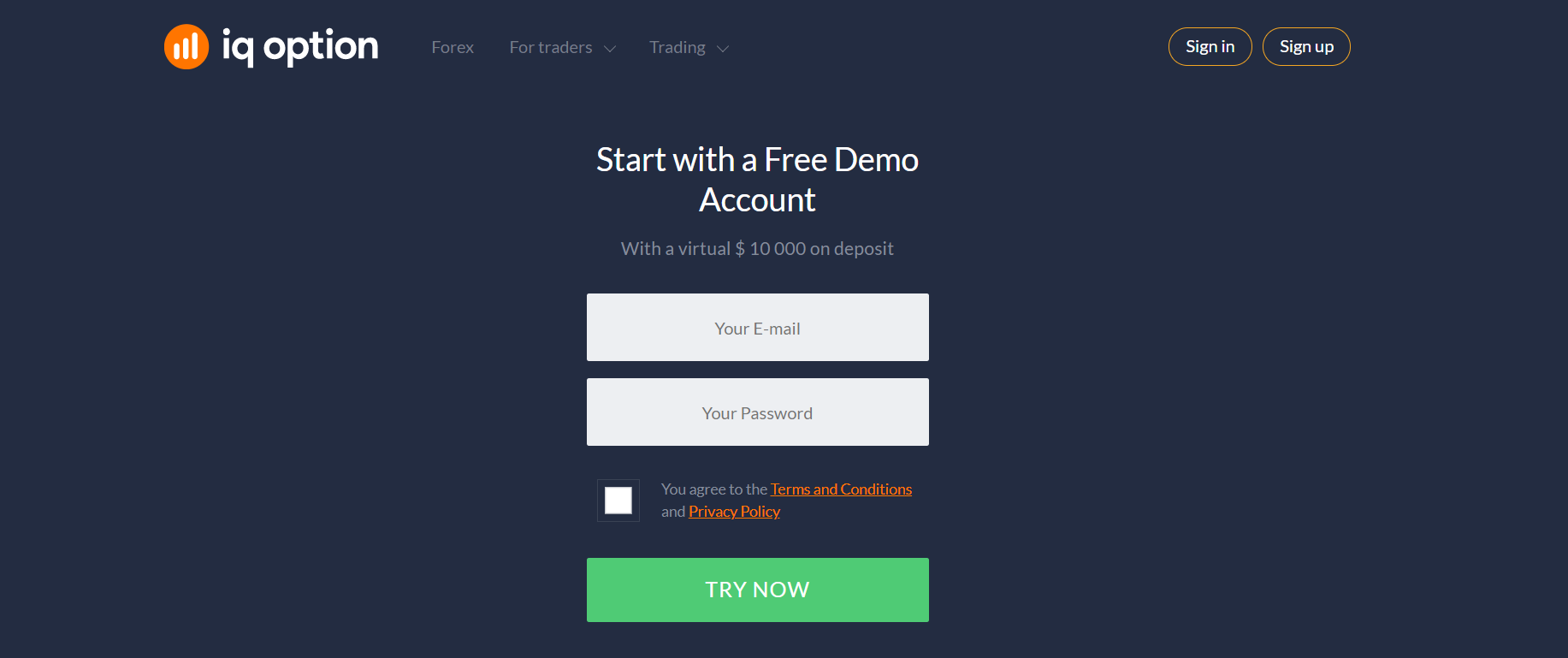 Using a demo account
You do not have to open a real account right away and make real money with it. To get started, we highly recommend opening a free demo account. A demo account is a free practice account, which gives you a taste of how the investment market works, without risking your money. You can use this account for as long as you like, with no limits on time or amount. You are usually given a dummy trial of $10,000 to get started, which you can also recover on request, even if it ends up with a failed trade.
Understandably, you will not be able to withdraw cash from the trial demo account.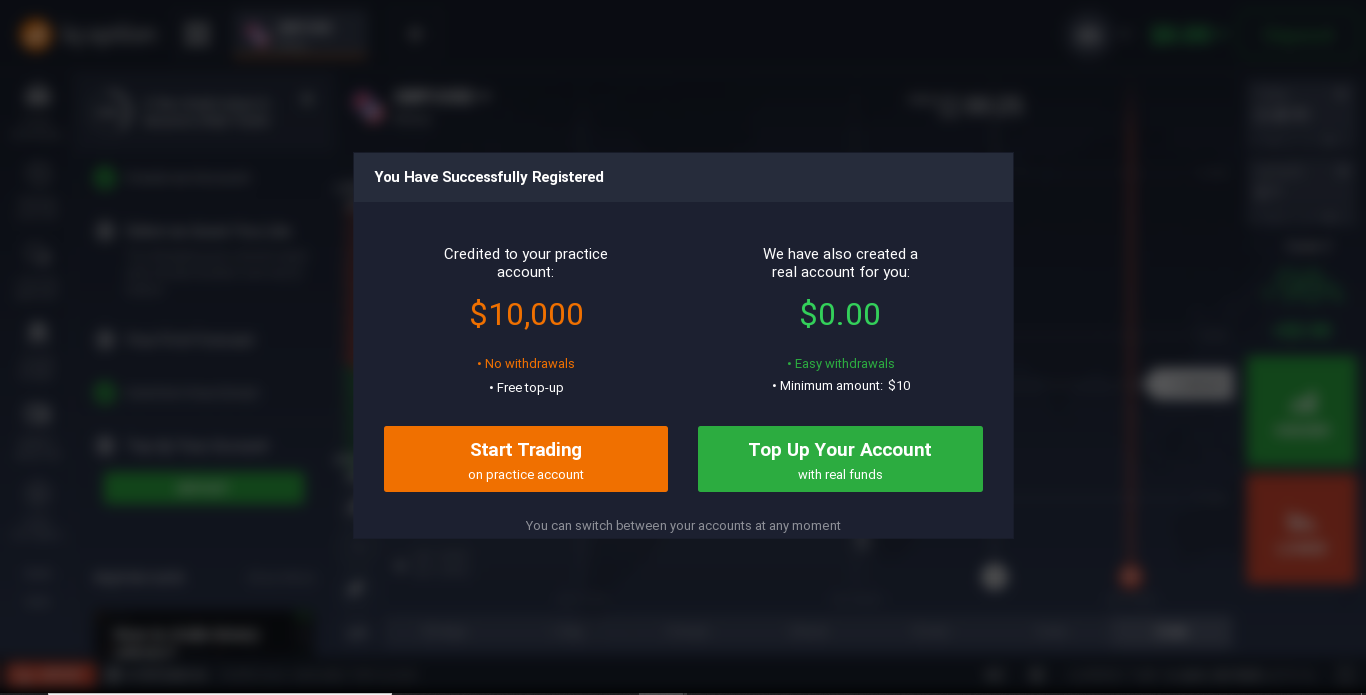 Easy deposits and withdrawals
When you feel ready to invest real money in the company, you will need to fund your real account on the platform using any of the payment instruments available on the website. The minimum starting deposit amount is just $10. Again we would strongly advise you to be careful at the beginning of your investments and not to risk your money too much, as investing is a risky business and without sufficient experience it is very easy not to make money and on the contrary to lose it.
Click on the top panel of the platform and you will see a list of available funding methods, which include the use of bank cards or electronic payment systems. Choose a convenient top-up option and deposit the desired amount into your account. The money is credited instantly. With the help of the same payment systems you can withdraw money from the platform's account, the minimum withdrawal amount is $2.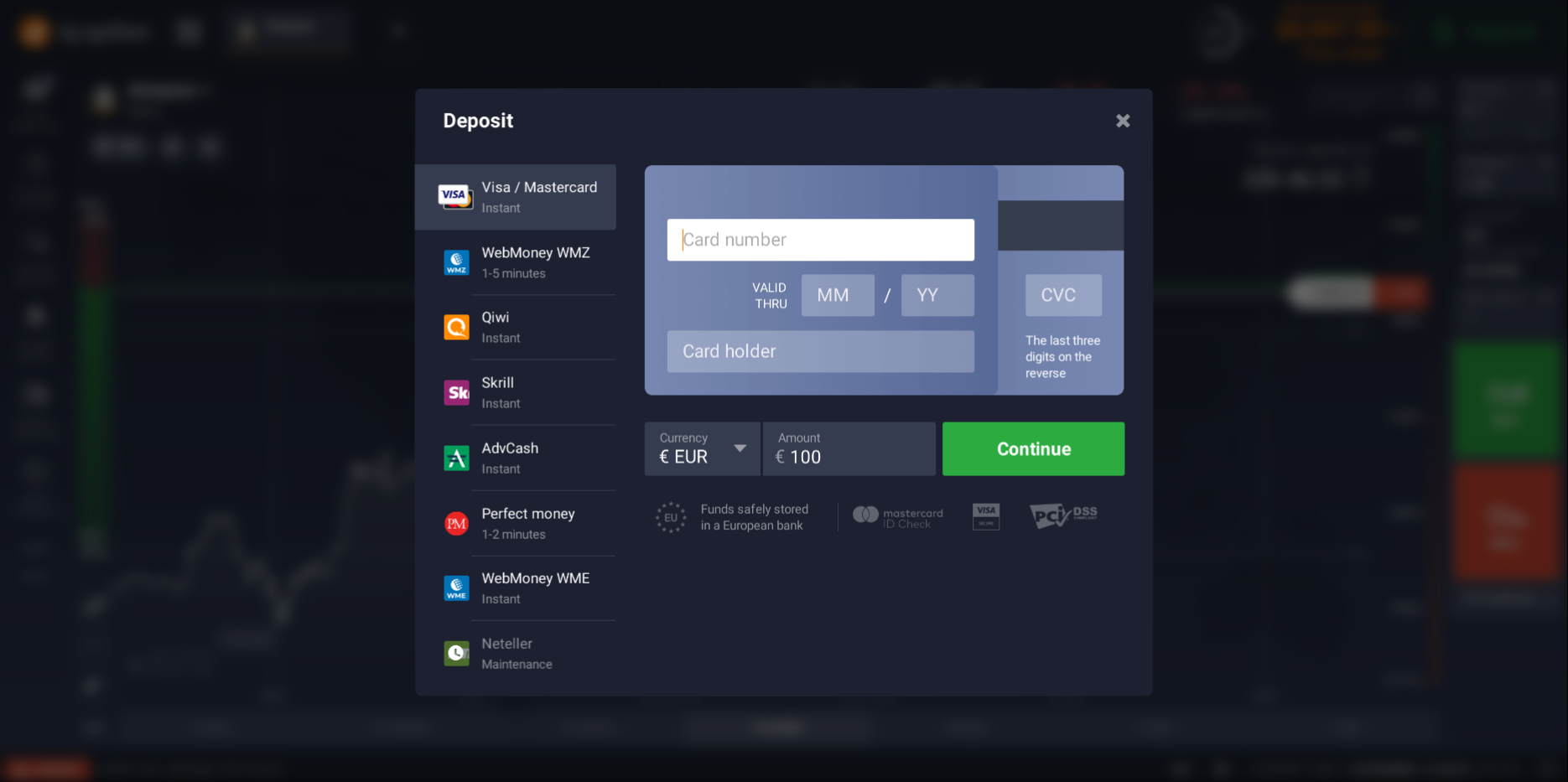 Platform tools for successful ETF trading
The platform is equipped with many tools for easy trading. You will be able to set your trade limits by setting stop loss and take profit orders, as well as to use the multiplier.
With stop orders you choose and set a limit to the value of your assets, at which point a trade will be automatically closed without your intervention.
A stop loss is an instruction to the broker to automatically sell the stock when the price falls to a certain level. A kind of loss limiter. A stop-loss protects the investor from losing too much. It is considered very dangerous to trade in the market without using a stop loss.
If the stop-loss limits the amount of losses, then the take-profit limits the amount of profit. The investor determines the price at which the broker will automatically sell the stock after it rises. Similar to a stop-loss, this order helps if the investor does not have time to monitor the stock's performance, waiting for a larger increase.
The multiplier option includes a leverage feature. You do not need to ask your broker to use leverage, just select the size of the multiplier on the right hand toolbar and start trading. Remember that using the multiplier, on the one hand, increases your investment and therefore you have the chance to make higher profits. But on the other hand, you also increase your risk. You should keep this in mind and not resort to using credit support if you are still inexperienced.
What ETFs does our chosen platform offer?
The platform we have selected offers 23 ETF options for trading. You can choose a fund from a variety of sectors. Let's take a look at some of them:
China Large-Cap ETF (ticker FXI) - is an exchange-traded fund that trades in the US. FXI follows the FTSE China 50 Index by investing in large-cap stocks. The fund's investments are concentrated in the financial, oil and gas, technology and communications sectors. The ETF employs a representative indexing sampling strategy, investing at least 90 per cent of its assets in underlying index securities. The fund invests in China's largest stocks, with a focus on financial sector stocks. As a result, the funds' returns are influenced by factors affecting these companies. In particular, geopolitical events, inflation expectations, interest rates and investor sentiment are among the most important factors affecting its performance.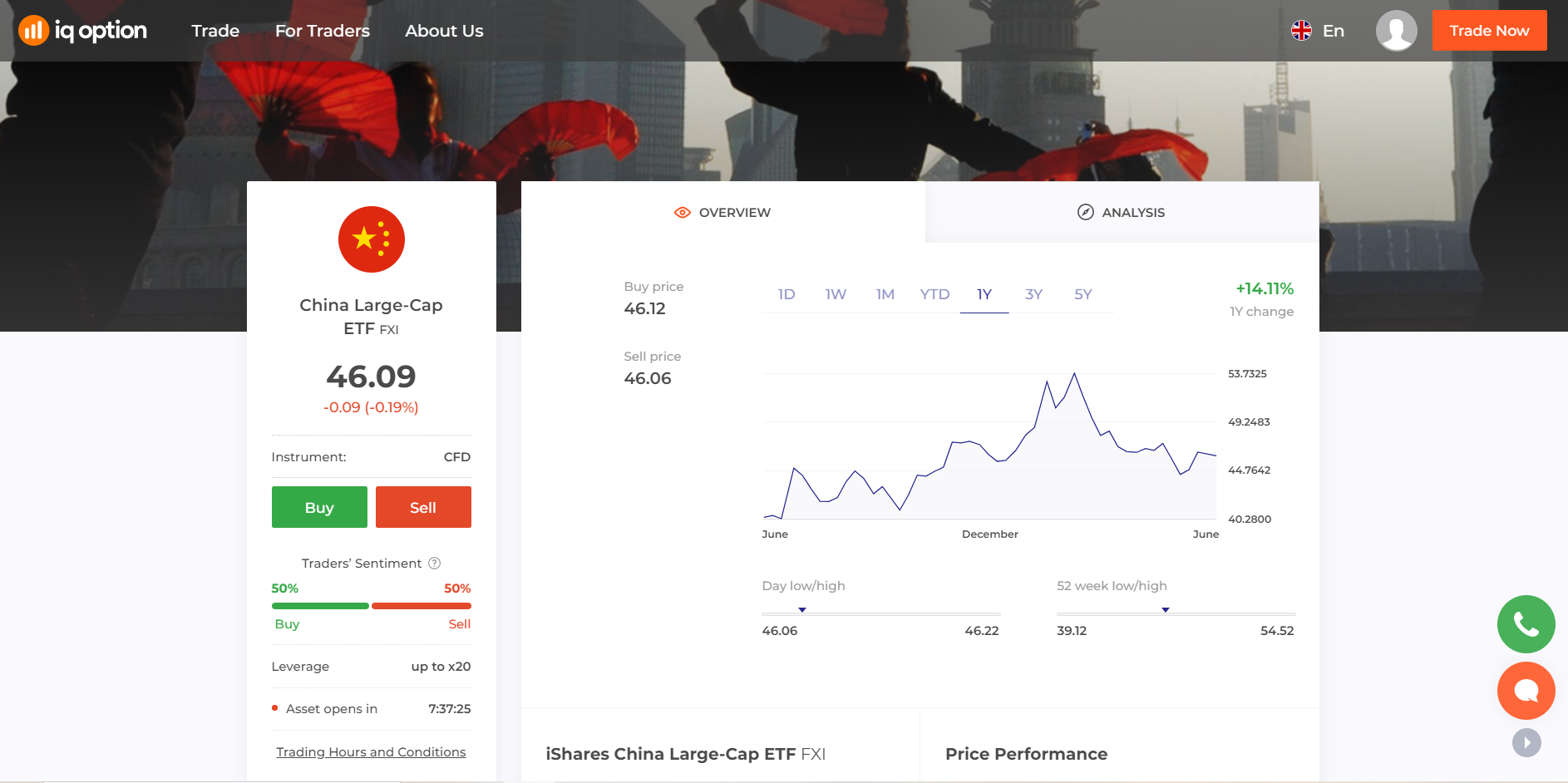 Materials Select Sector SPDR (ticker XLB) - is an exchange-traded fund operating in the United States. The fund's investment performance is in line with the Materials Sector Choice Index. This index includes companies from the chemical, building materials, container and packaging industries. The fund invests mainly in companies with large S&P 500 capitalisation in the materials sector. The fund thus offers a performance similar to that of the materials sector index. The main factors affecting its performance are factors associated with companies in the materials index sector, such as commodity prices, inflation expectations, interest rates and general economic sentiment.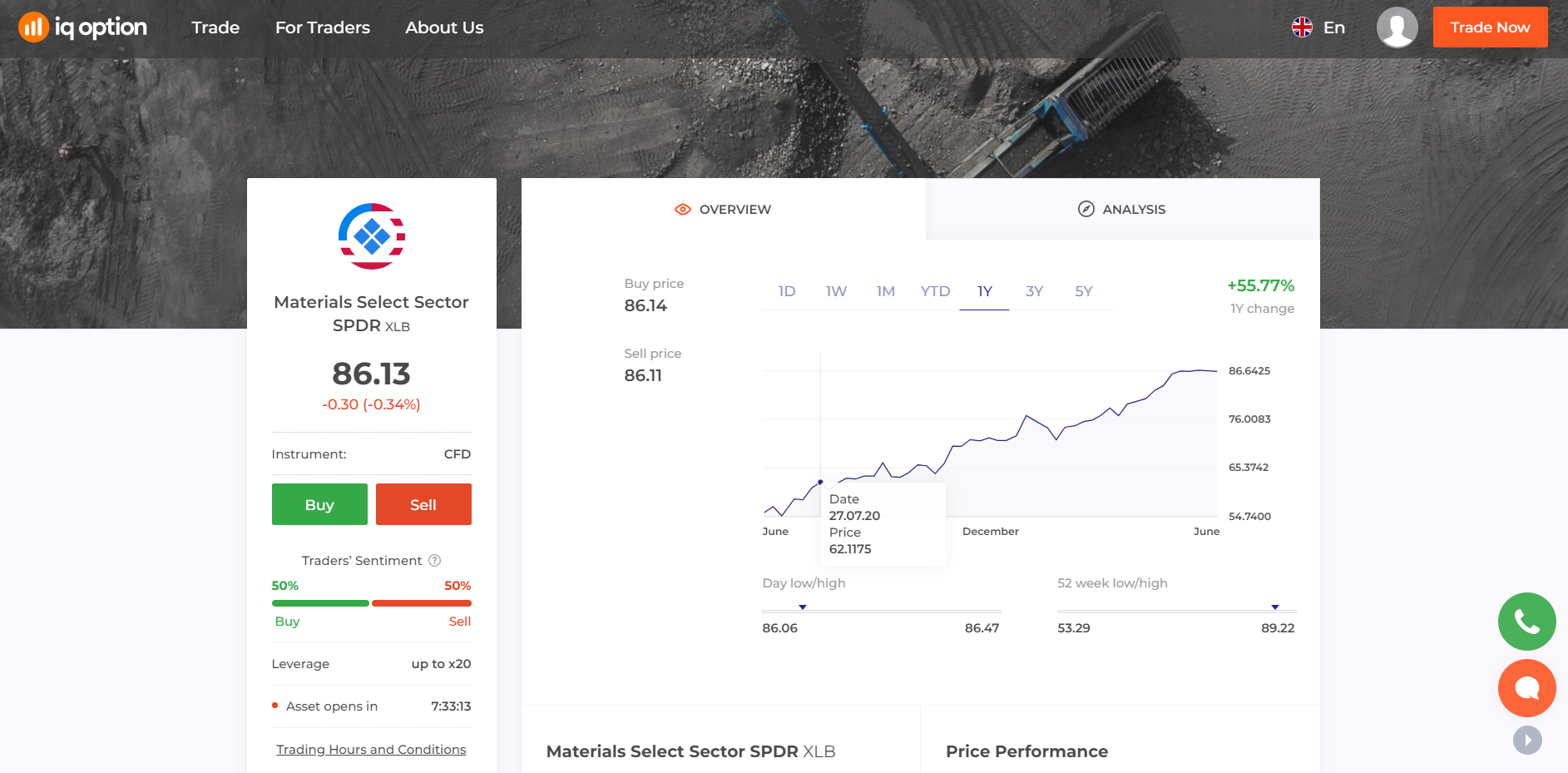 UltraPro Short QQQ (ticker SQQQ) - ProShares UltraPro Short QQQ trades in the US and seeks investment results that match the 300% inverse of the daily performance of the NASDAQ-100 index. The fund invests in various swap contracts based on major indices such as the NASDAQ 100 and US Treasury bills. It offers triple-back exposure based on movements in the NASDAQ 100, but its effect is limited to a few hours only because of compounding effects. As a result, it is actively traded and is ideal for short-term traders seeking higher volatility. The fund's performance is influenced by fundamental events such as the economic outlook, interest rate expectations and inflation expectations, which also affect the NASDAQ 100 index.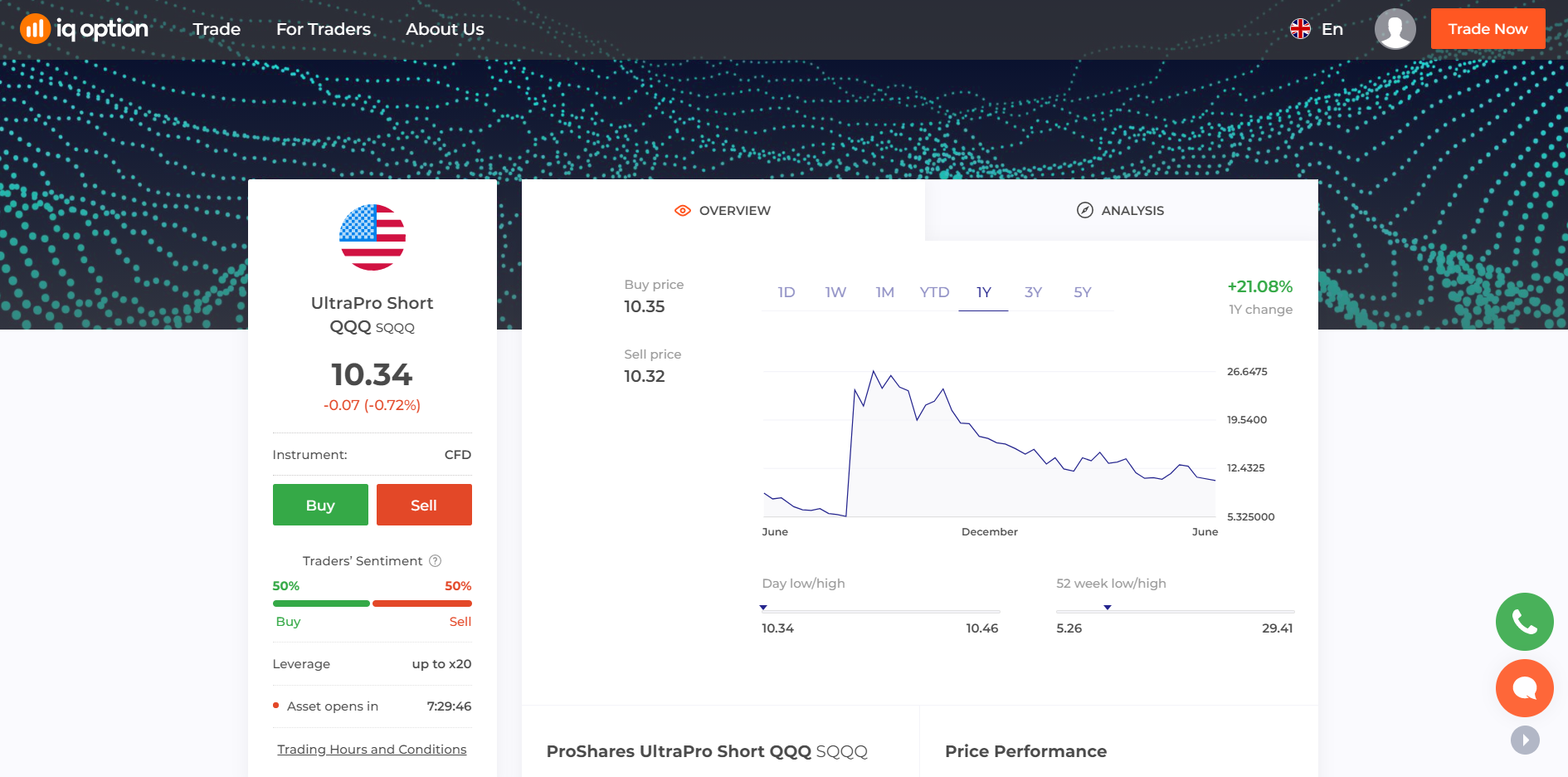 Go to "ETF trading" and select one of the 23 options on offer. You will find brief information on the fund in the "description" tab and also in the "fund analysis" tab.
Other important features of the platform
The platform is very easy to use, as you will be able to customise it according to your personal preferences by choosing the design and display quality you want. In the "settings" section you can change the colour scheme of the charts and indicators, as well as select one of the workspace backgrounds available to you. You can also open several windows on the screen at once, changing their size and position relative to each other or using ready-made templates, or simply using your computer mouse, which you can simply drag and drop the windows and resize them. Such handy little things make the work of a trader very easy, making it comfortable and convenient.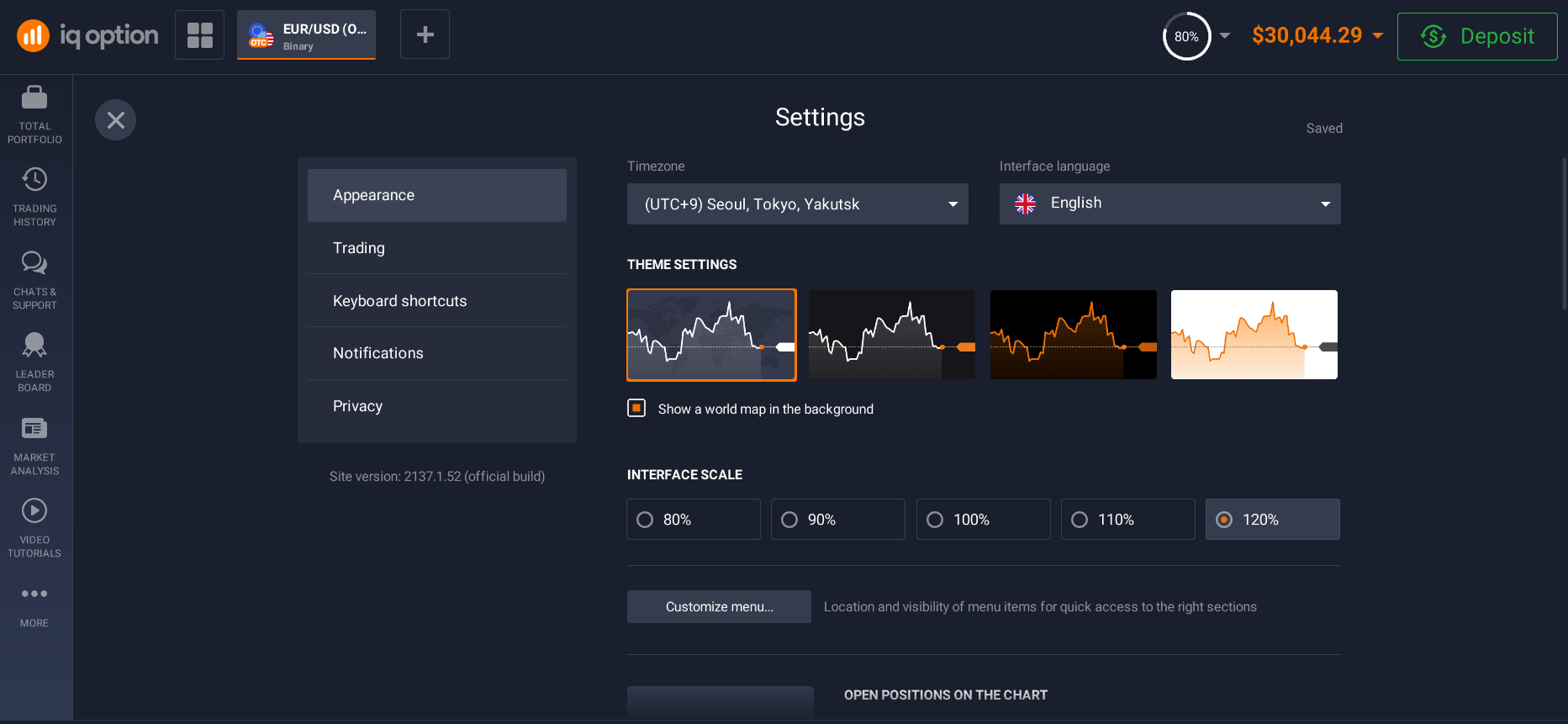 There's also a whole learning section on the platform, with video tutorials to help you understand the information you need. Just choose a lesson, get comfortable and watch the offered video. The lessons are recorded in simple and easy to understand language, and there are examples on the charts.
There is also a very good and useful section called "News". A good trader must always be aware of the events affecting the market. The platform gathers all the latest news from verified sources of information. Customise your news feed by displaying it on the left panel of your workspace, and you'll never miss any important news!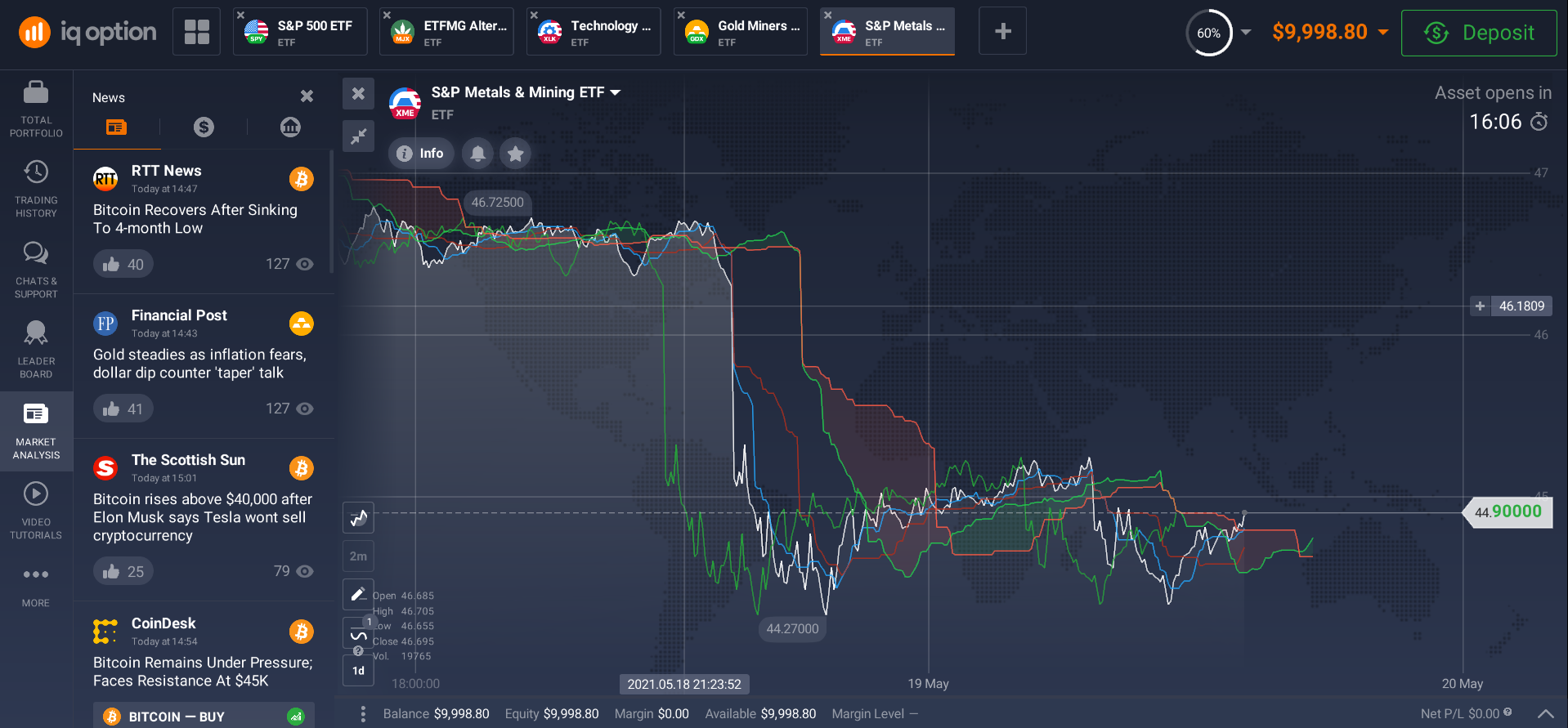 The tabs "asset info", "market analysis", "chat", "trading history" - all these names speak for themselves.
If things don't work out and you have any questions, you can always ask our 24/7 helpdesk, which offers helpdesk assistance in 17 languages.
In our opinion, this is the best ETF trading platform in Hong Kong. Open a demo account today and see for yourself!
Related pages
CFD trading platform in Hong Kong
How to make money trading crude oil in Hong Kong?
SIMPLE AND RELIABLE
MONEY WITHDRAWAL