Professional trading platform in Hong Kong
What is a professional trading platform?
One of the most important parts of investing is the technical organization of the process, which includes primarily the software needed to search for and buy the assets of interest and to further monitor the status of your investment portfolio. A professional trading platform is such software. The increasing popularity of electronic trading platforms has opened up new possibilities for retail traders in Hong Kong.
Trading platform displays the situation on the market, i.e. provides information about quotes in real time. This information is systematized and grouped for display as a chart. You can select a timeframe for which the information will be grouped. This periodicity is called a timeframe.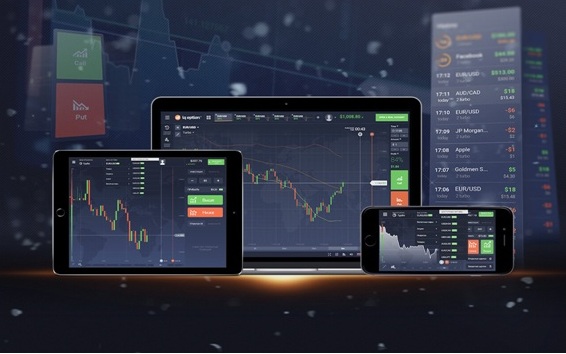 The trading platform has several tools whose main purpose is to facilitate the trading process of a trader.
These tools include: real-time news feed from the major news agencies, sound alerts indicating the important system and trade events, saving the trading history, generating reports on transactions, the ability to conduct technical analysis directly on the platform (because any order opening should be based on the data obtained during the analysis of the market and the selected asset).
Since the trading terminal is one of the basic tools for every trader and investor, it is important for it to be user-friendly, of high quality and reliability, meeting all established innovative requirements.
There are a number of criteria that we advise you to use in order to choose the right terminal:
Software speed. Availability of powerful servers capable of coping with the load of multiple users. There should not be any slowdowns and freezes.
Security of transactions and confidentiality of transactions.

A user-friendly, well-designed interface. Make sure you understand which sections you have to go to in order to perform a certain action. Your platform doesn't need to be complex - you don't need to click through ten links to read the news. You need to be able to intuitively sense where you need to click to get to where you want to go.

Functionality. The number of built-in tools makes trading more productive and allows you to cover a wider range of possible trade actions.

Mobile version. Now it is possible to interact with the market using a phone or tablet, which allows a trader to work and make transactions anywhere.

It happens that at certain stages, for an investor one platform may be relevant, and after some time quite another one. It happens that investors use several platforms: one for trading, the other for market analysis.
In any case, choose professional trading platforms and official exchanges in Hong Kong. All of these tools are designed for the needs of traders, and can significantly help them in their work.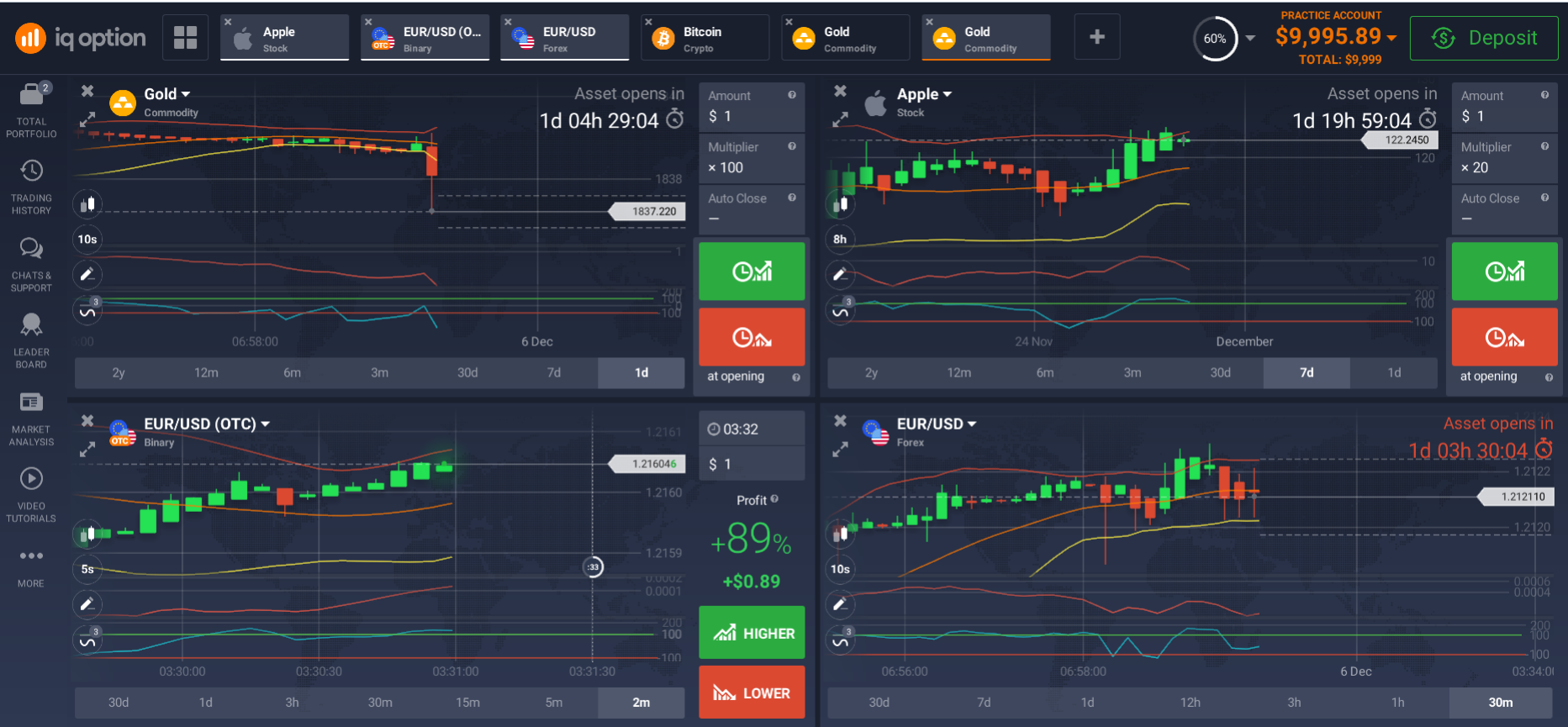 Before starting work, a beginner should decide on the type of market in which he or she is going to trade. The choice determines the best direction for a beginner to take in his studies and what news to watch out for.
An online stock trading platform
The prospect of making money in the stock market is too attractive to pass up. Today, stocks are the most useful and profitable financial instrument not only in Hong Kong, but also in the world.
Stocks allow you to invest for the long term and make quick money by reselling and buying securities. But it is important to realize that investing in shares over the long term is different from speculating on them quickly. If shares are bought with the prospect of holding in a portfolio for several months or years, you cannot do without studying the company's performance. Fundamental analysis becomes essential. The long-term method is ideal for passive investments. The income from this type of trading is dividends from the securities. If you are a long-term investor, you only need to identify promising companies. Be sure to diversify your investments, i.e. invest in a set of assets rather than just one. This will reduce the risks.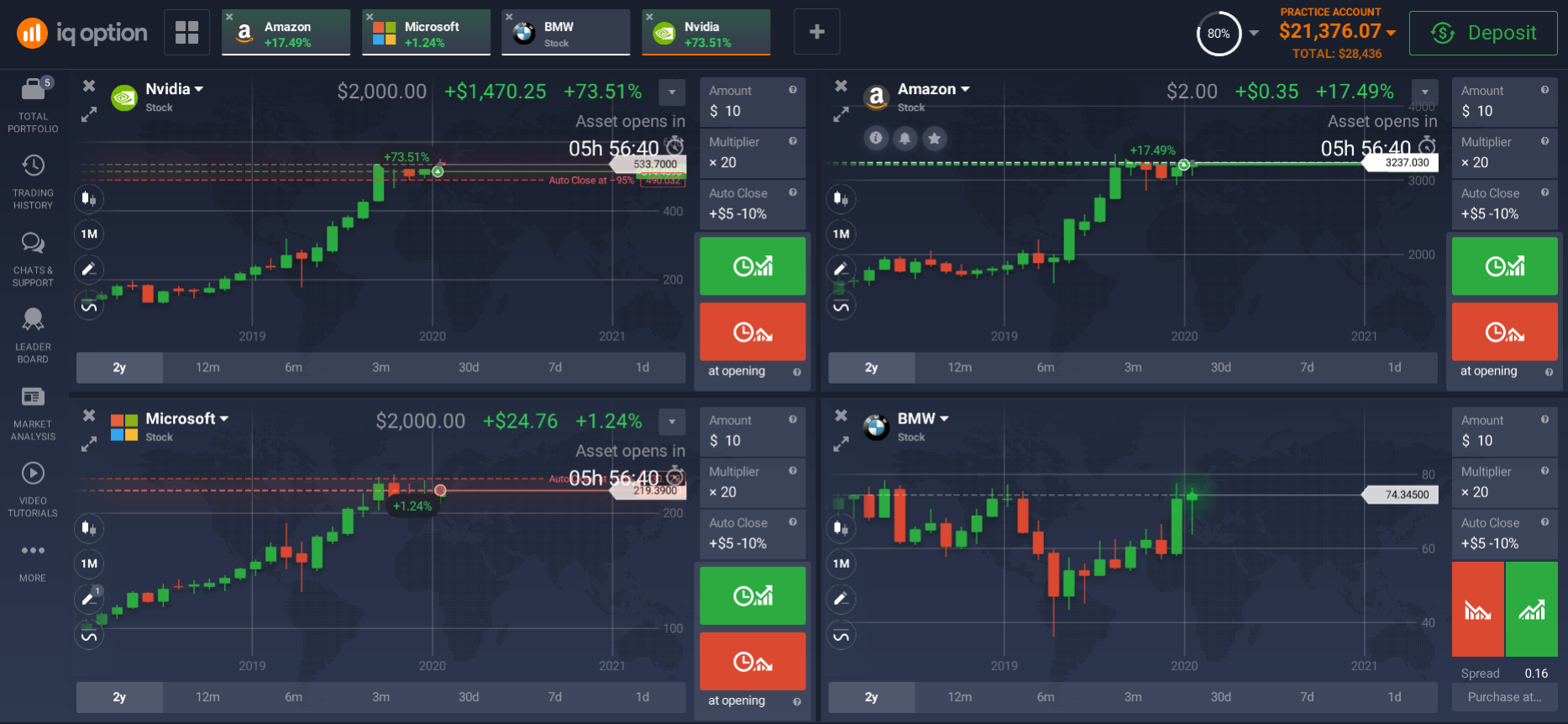 Short-term investors and traders rely more on technical analysis. In technical analysis, traders assume that the price already takes into account all fundamental factors. You can limit yourself to analysing the chart and do not delve into the analysis of a company's performance. CFD on shares is a very popular instrument among traders.
The main difference of CFD trading compared to pure asset trading is the possibility of using the leverage. Leverage essentially involves borrowing money from a brokerage firm in order to increase a trader's capital.
This means that you may have little capital in your account, but with leverage you can trade with more money in the market. CFDs can be bought and sold, allowing you to profit from both rising and falling markets. Trading a stock through a CFD contract is virtually no different from any other trading in your broker's work terminal. In the same way, you can place both limit and market orders, and you can place stop orders.
Platform for online forex trading
This platform is used to trade currencies (currency pairs) such as EUR/USD, AUD/USD, GBP/USD and others. In the Forex market, currency pairs are sometimes referred to as trading pairs and this is probably correct, because they are used to trading, which is the exchange of one national currency unit for another. To be more precise - buying one for the nominal value of the other. In Forex, one can make money both on rise of price and on its fall, because fall of one currency always means rise of the other.
You can trade almost every second. In this process, the supply and demand levels are changing every second, accordingly, the value of one currency to another is changing, which is measured in how much another currency is being offered for it.

Buy and sell transactions in trading are conditional in nature, because their purpose is simply to profit from the difference in exchange rates. That is, if you open a Euro/Dollar trade, you don't need physical Euros. You need the profit from the fact that when the dollar appreciates against the euro, you will sell your euros back and get more dollars for it than you invested.
Forex trades do not result in physical delivery of currency, but are simply a tool to benefit from future price fluctuations.
What is required of the trader is to choose the right moment to open and close a position. To do this, you need to carefully study the market situation, apply different types of analysis, take into account the readings of technical indicators (if you choose to use them). It is believed that almost half the success of a trade is the entry point.
Platform for online options trading
Options (called derivatives in specialist parlance) are a special derivative instrument, which allows effectively reducing risks of existing positions on both futures and stock markets, as well as providing an opportunity to earn not only on directional movements of stock instruments (upwards on buying and downwards on selling), but also on movements in any direction. In option trading, you can use different strategies and make profit even when the market seems to stand still. With the help of this tool, you can hedge your risks in your portfolio or, on the contrary, make profit by speculating. The price of options is small, and therefore they allow you to earn even with a small deposit.
Types of options:
A put option is a contract entered into for the right to sell an asset at an agreed value. This is a kind of protection for the asset against price declines. A put is similar to a short position: in this case, the buyer hopes that the price of the stock will fall before the option expires.
A call option is a contract that gives you the right to buy an asset at a fixed price during the life of the option. This is similar to a long position in a stock: the buyer hopes that before the option expires, the value of the stock will increase markedly.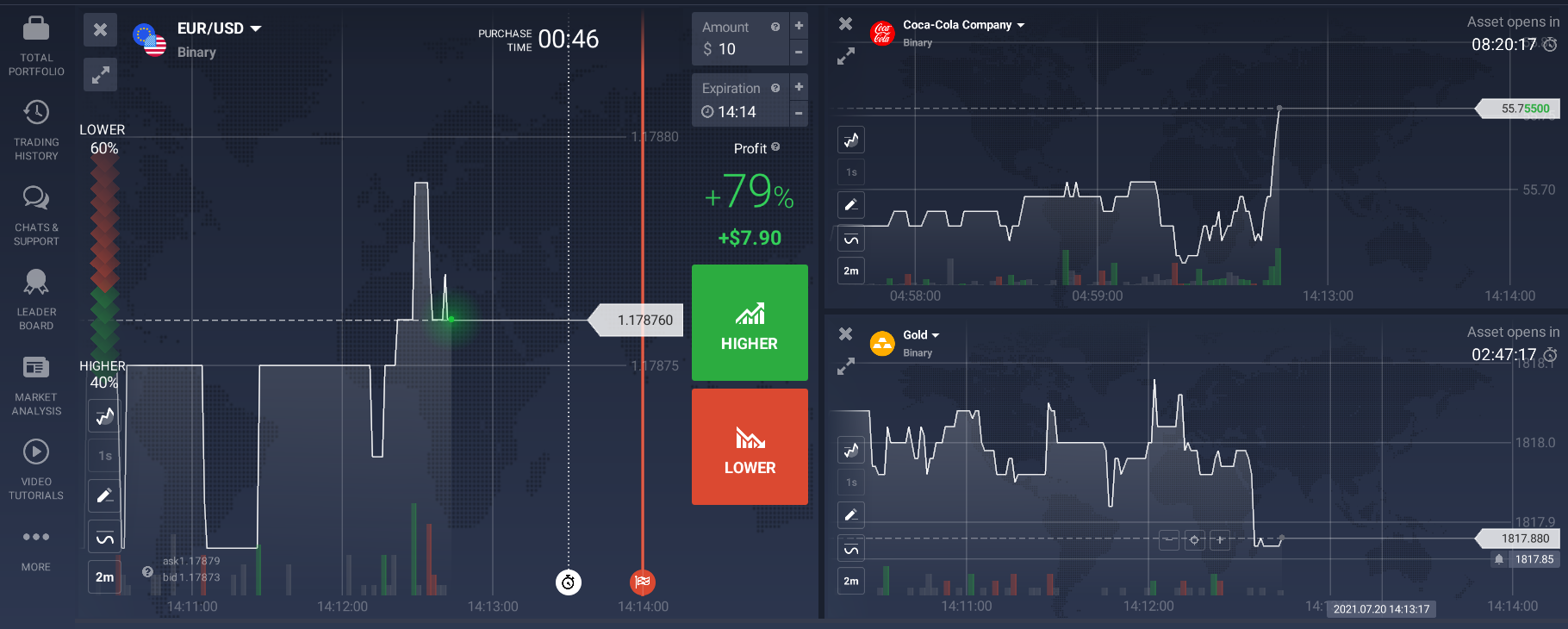 Option - a time-limited contract. It gives the right, but not the obligation, to buy or sell any asset.
For example, the holder of a call option to buy a particular stock may not exercise the option if the price of the underlying asset changes to his disadvantage.
As for the types of underlying assets, there are option contracts for all types of instruments. These can be precious metals, currencies, commodities, cryptocurrencies, artwork.
Platform for online commodity trading
Online commodity trading has become a popular way to hedge inflation and diversify portfolios.
Commodities can be divided into the following categories:
Agricultural commodities, including food crops (cocoa, cotton, cereals, maize, coffee, etc.), livestock and industrial crops (including wool and lumber).
Energy commodities (natural gas, oil, petrol, coal, etc.).
Metal commodities, including base metals (i.e. iron ore, zinc, aluminium, steel, etc.) and precious metals (gold, silver, platinum).

Commodities can be highly volatile, experiencing wide fluctuations in price. Trading CFDs on them is one way to profit from these fluctuations.
A Contract for Difference (CFD) is a type of contract between a trader and a broker to profit from the price difference between the opening and closing of a trade.
When trading commodity CFDs, you do not buy the underlying asset itself. You only speculate on increases or decreases in the price of a particular commodity. A CFD trader can open short or long positions, stop and limit losses, and use trading scenarios that suit his or her objectives.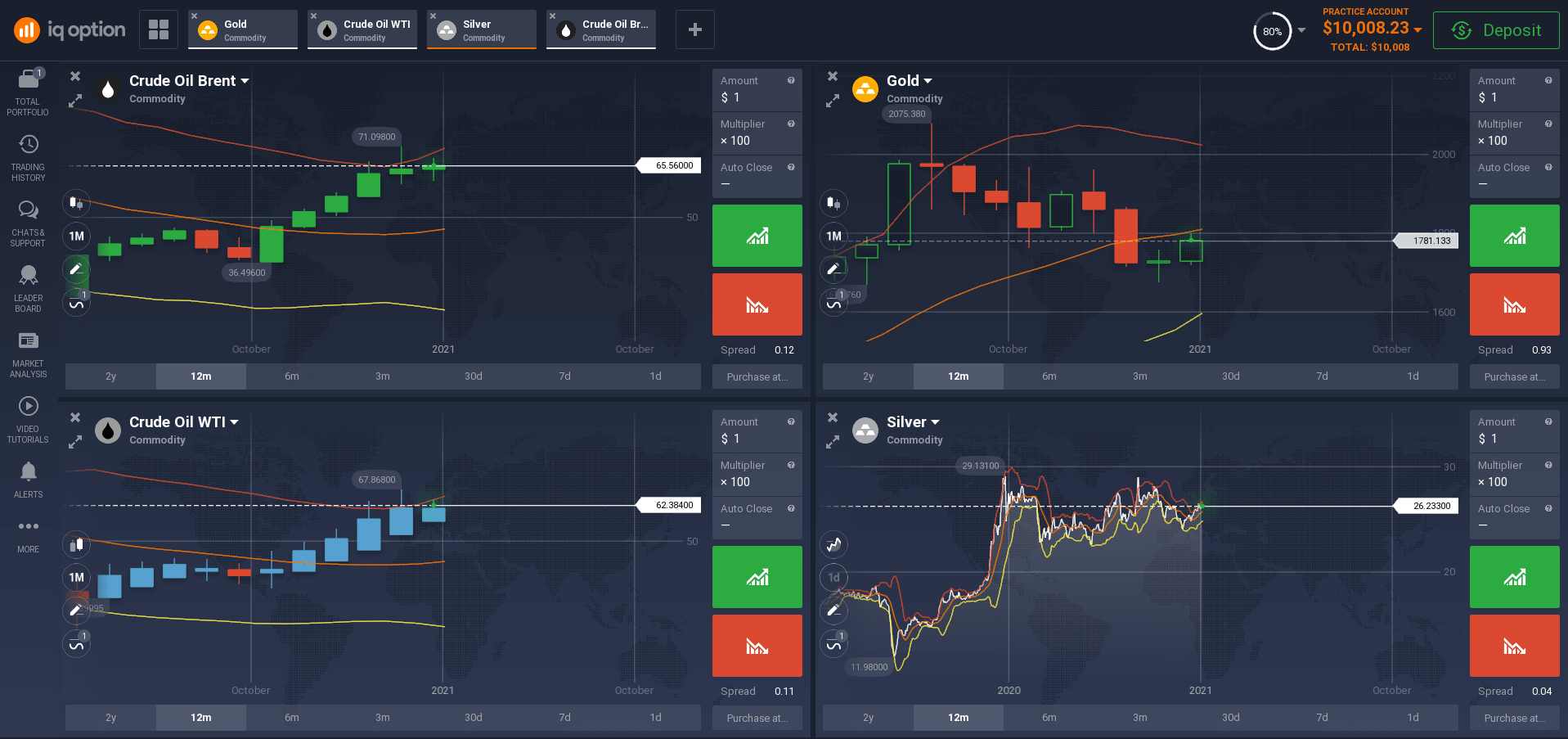 Another good option to invest in commodities is to buy shares in commodity corporations that mine, process, treat, etc. commodities.
Finally, you can buy the underlying asset. That is, to participate in the growth of the value of the commodity directly by buying the commodity in the form of futures, ETFs, options, etc.
Platform for online ETF trading
ETFs are investment funds that replicate baskets of stock indexes by buying real shares to form an investment portfolio. There are commodity ETFs that focus on a specific group of commodities, such as precious metals. Sectoral - comprising stocks of companies in a single sector, and others.
ETFs lower the entry threshold to a minimum. A trader can buy one stock and have a full investment portfolio that matches the underlying index. Without ETFs, it would be impossible to assemble such a portfolio of 40-500 companies with little capital.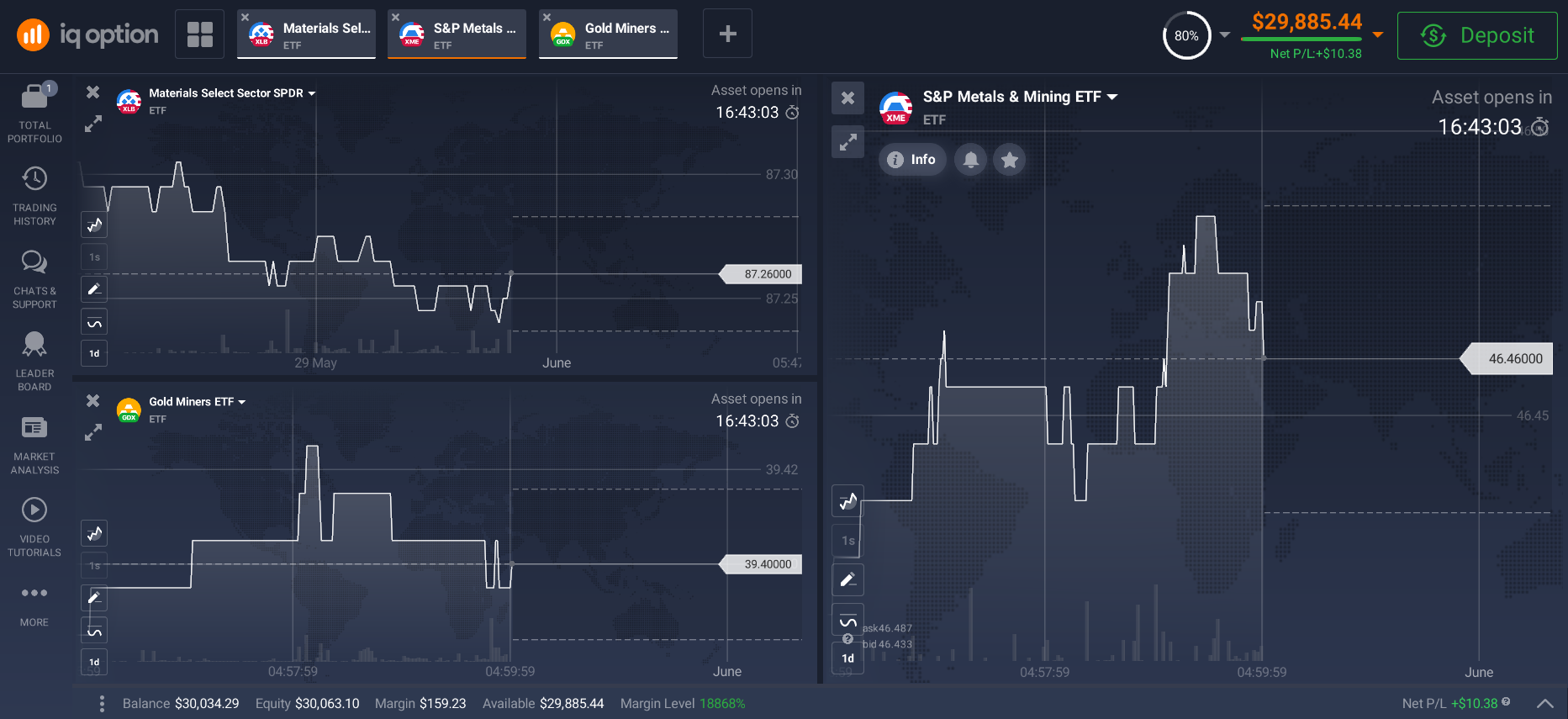 The value of ETF shares exactly repeats the dynamics of a chosen stock index, of which there are many. For example, the Dow Jones. There is an index that includes high-tech companies, or car manufacturers, drone manufacturers, and other areas.
In simple terms, ETFs are a convenient and sought-after financial tool for both passive income and active trading.
Platform for online cryptocurrency trading
Now a lot of people are getting seriously interested in crypto trading. The digital currency is proving to be a practical and promising asset. A modern professional trading platform provides users with a large set of tools for investing: price chart for the selected trading pair, order creation form, information on trading volumes, transaction history, etc.
To make money on cryptocurrencies, long-term and short-term investments you already know are used. The latter allow you to multiply profits in a short period of time.
All the basic concepts of classical trading, such as diversification, liquidity, indicators, are applicable to operations with digital coins.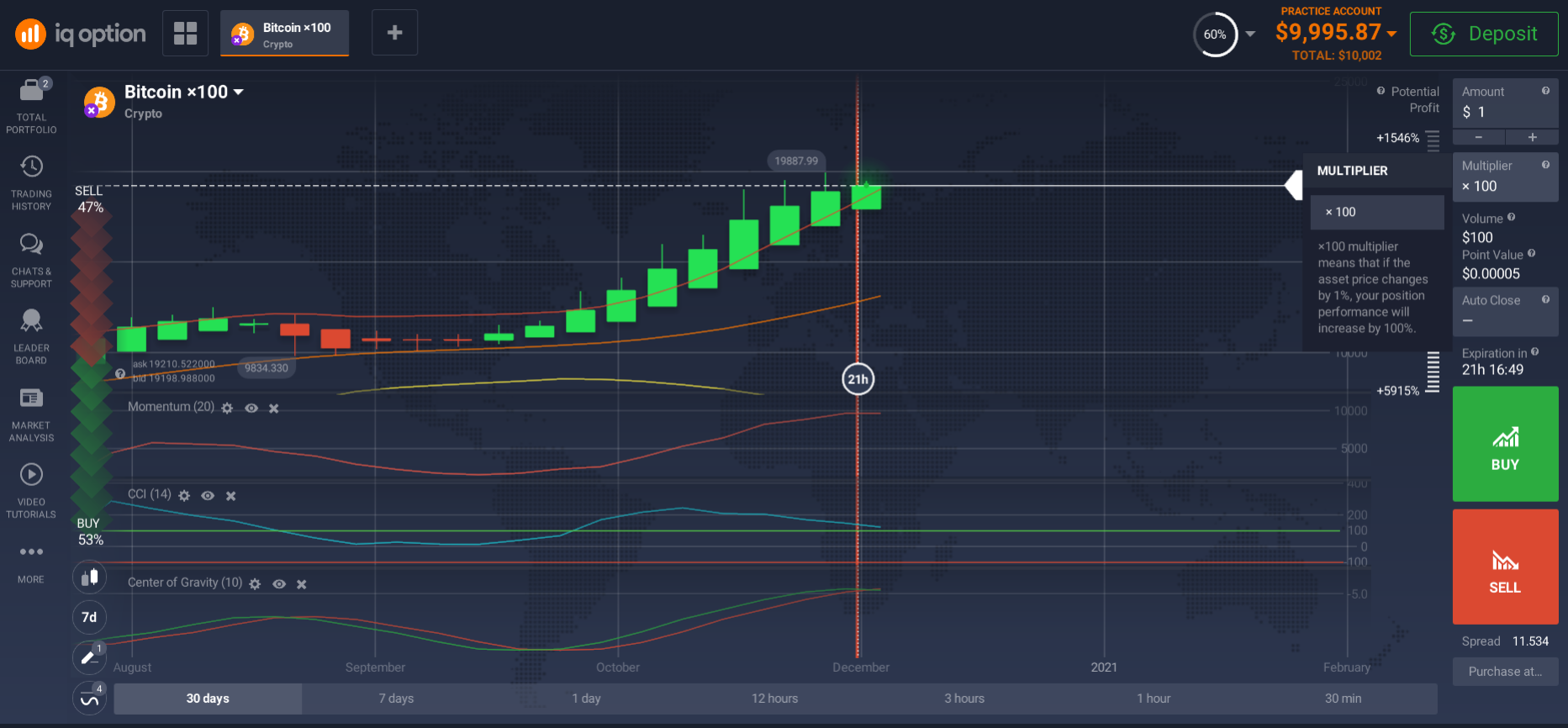 Cryptocurrency trading is speculation on price movements. Traders exchange one currency for another, buy and sell coins, and also exchange fiat money for cryptocurrency. Low entry thresholds, high volatility and 24/7 trading make this type of trading especially popular.
Platform for online index trading
Every person nowadays, in one way or another, has come across such a notion as stock indices (stock indices).
There are two basic types of stock indices:
Industry-indices comprise companies of a certain industry, thus, serving as a kind of indicator reflecting the state of affairs in the industry as a whole.
Composite- may comprise stocks of companies belonging to different industries. They can reflect, for example, the state of the economy in the country as a whole.
An index can be thought of as a kind of basket or set of stocks. For example, one of the oldest indices in the world, the Dow Jones (you probably heard of it) includes 30 major companies whose shares are traded on U.S. exchanges. It is important to know that the index is never traded in its pure form - traders operate on its derivatives. CFDs, for example.
Indexes are good, because when an investor invests in the index, he gets a stake in dozens and hundreds of firms at once for a small amount. So the risk of losing money on the price fluctuations of individual assets is low.
How to start using a professional trading platform in Hong Kong?
One of the most important requirements for starting to trade in Hong Kong is choosing a broker. There are many of them, so you need to compare the different platforms and choose the best one for you.
It would be a good idea to find the right platform right away and install it on your desktop.
If you have already made your choice, and you feel you are ready to use a professional trading platform in Hong Kong, then it is time to register for the terminal!
Registration process
First, as a new user you will need to create an account, get verified (if required), add funds to your account, and you're good to go. Some exchanges allow you to trade anonymously, but most sites still require customers to be verified by providing personal information and documents. Some allow traders to choose whether to be verified or to trade without verification.
You should know that verified accounts are more secure and give the participant more trading opportunities.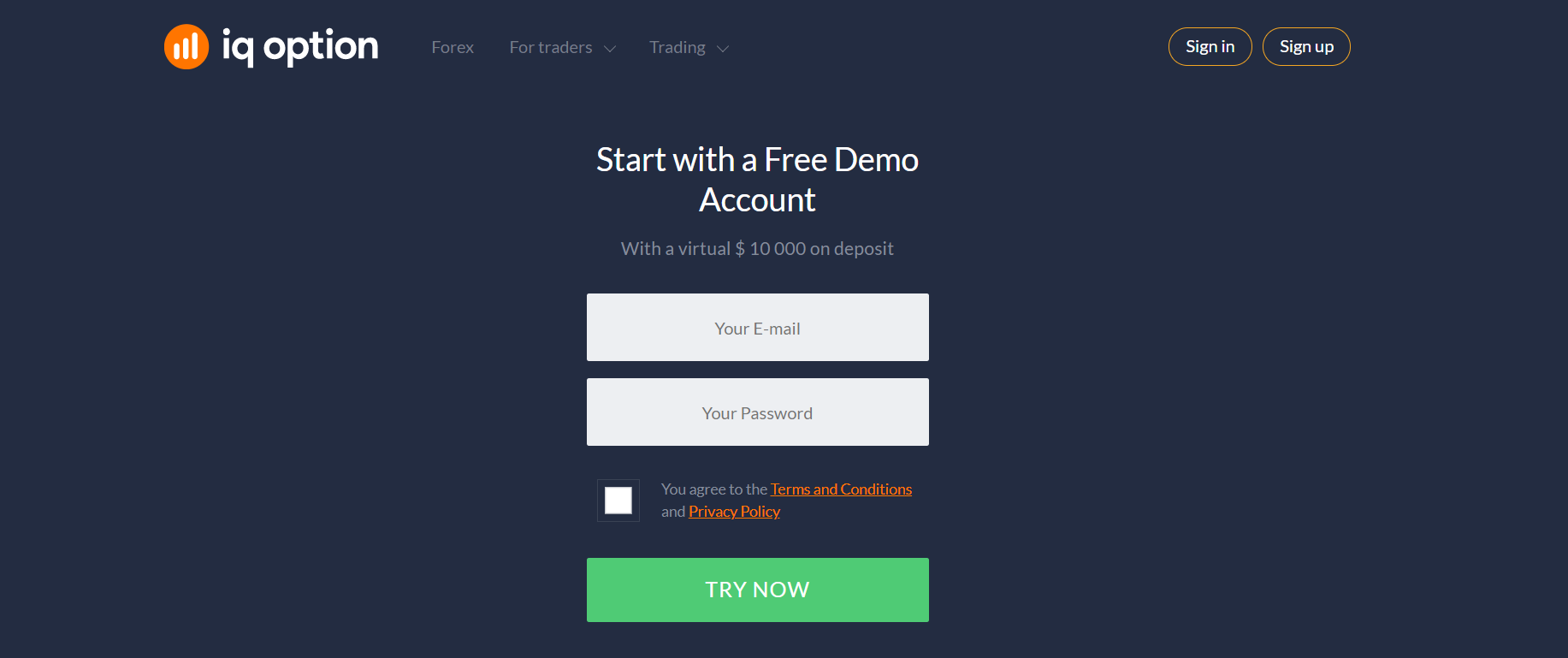 So to register you will need to enter some personal details, an email address and of course a password (don't tell it to strangers). Once you've filled in and submitted the form, you'll get an email. To activate your account, follow the link in the email. It is important that you give true and correct information in the form, otherwise you will experience withdrawal problems.
Demo Account
If you want to avoid risking your money at the initial stage of trading, beginners can try their hand at trading virtual assets by creating a demo account. Technically, such an account works in the same way as a brokerage account, and provides the most accurate picture of the essence of trading. You can use the virtual money available to make practice trades and test your strategies.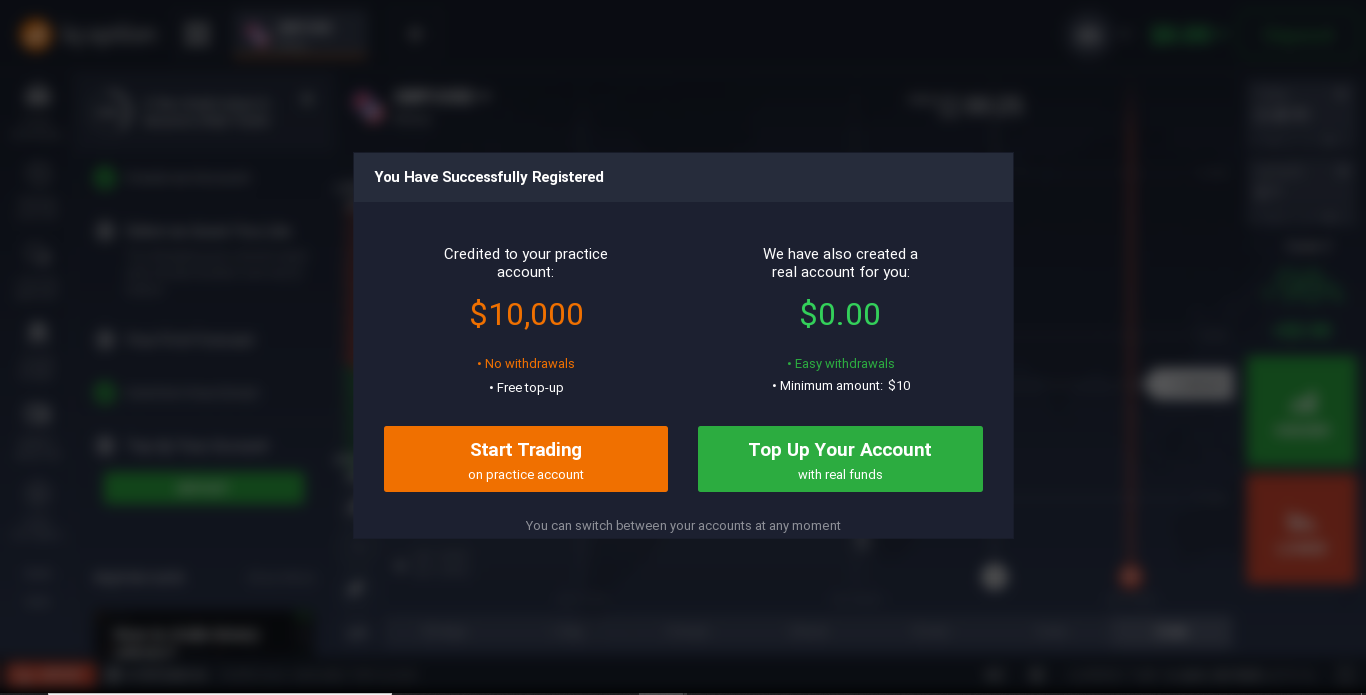 Profits made in your demo account are virtual - there is no way to withdraw them. Likewise, your losses are also virtual - you do not have to pay for losing trades.
Experienced traders often test their trades not with real money, but with a demo account. Such preliminary testing allows understanding how much profit a new strategy can bring and whether anything needs to be changed.
Viewing data on assets, setting up your platform, reading the news, using technical analysis tools - all these things you can learn by using a demo account.
Live Account
Depositing of the exchange account also follows the standard algorithm: choose the Deposit tab and transfer money to the specified deposit address. The size of this amount will be in accordance with platform conditions. But often this amount is democratic, only a few dollars. You can of course deposit a larger amount, but it's best to take your time and begin gradually.
Using the payment systems that are listed on the terminal, you can easily deposit and withdraw your funds whenever you want. Some brokers now support popular e-wallets.
Don't rush to fund your account right away, it's not unreasonable to ask about fees and charges.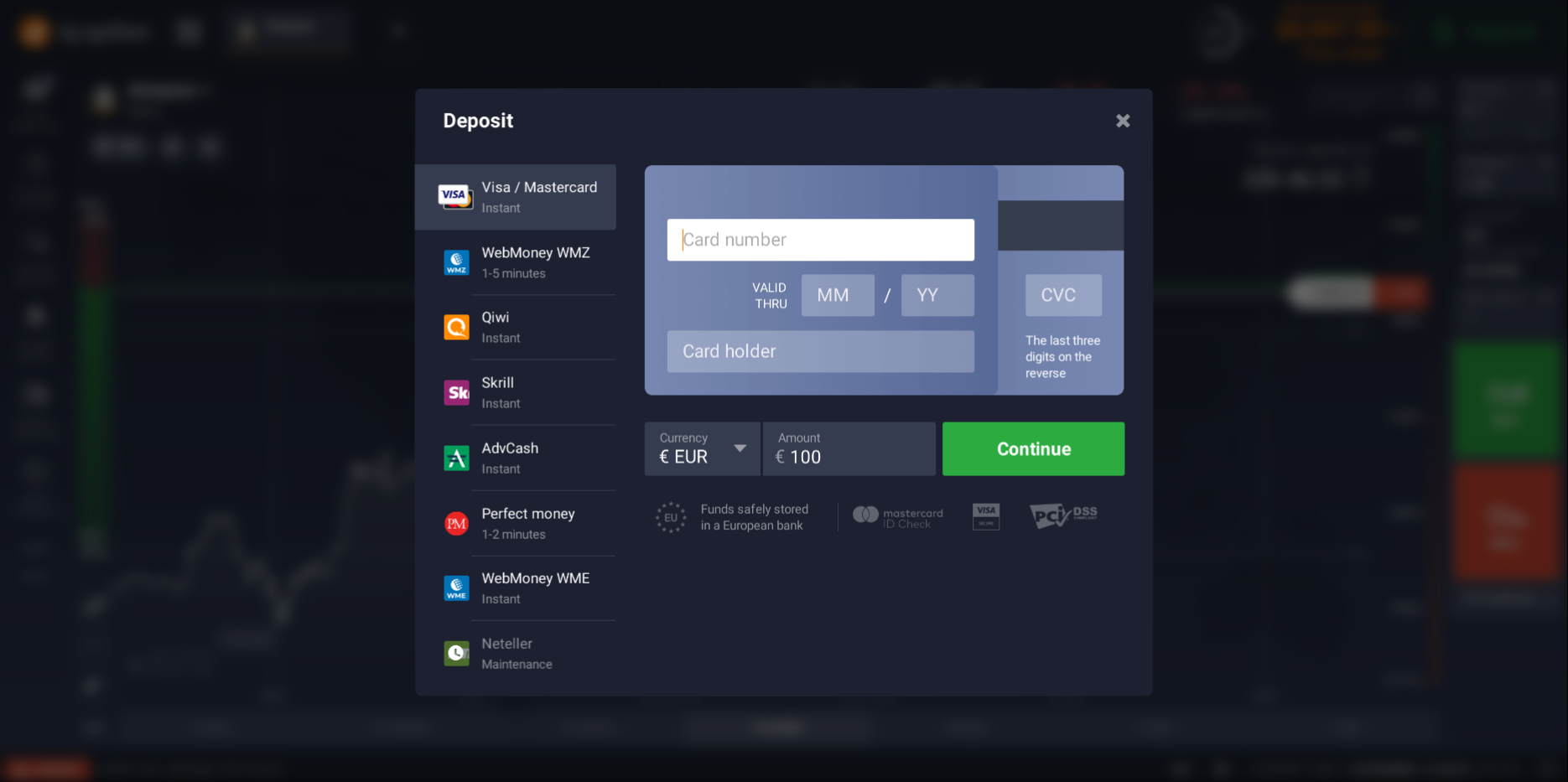 You will also need to select the payment method, type of currency and only then enter the desired amount. As soon as there are funds on the brokerage account, you can place orders for trading.
When choosing among the many trading terminals, choose a trading platform based on feedback from experienced traders and investors, because who better to give a real estimation for the platform than them? You should know that decent brokerage platforms offer free training, free demo accounts and reasonable initial investment amounts. Technical support is available 24 hours a day on these platforms. This ensures that you can always get in touch with a support agent, no matter where you are.
SIMPLE AND RELIABLE
MONEY WITHDRAWAL
GENERAL RISK WARNING:
The financial services provided by this website carry a high level of risk and can result in the loss of all your funds. You should never invest money that you cannot afford to lose