What is a decentralized exchange platform and how does it work?
DEX Decentralized Exchanges are digital asset exchange platforms operating within the DeFi Ecosystem (Decentralized Funding).
They operate on the principle of decentralization, therefore they work without the participation of centralized structures. DEX allow you to trade cryptocurrencies in a peer-to-peer mode, that is, directly between users. For this reason, users do not need to transfer their own assets to the exchange, which reduces the risk of possible theft or hacking of the exchange server. Decentralization of trade also prevents trade fraud or price manipulation.
DEX are based on blockchain technology. Typically, this is an application written on a specially adapted platform for intelligent contract management. In this case, there is no institution to which we would have to entrust our funds. The transaction takes place on the blockchain network, and not on a platform that is stored on a foreign server.
When trading on this exchange, we exchange cryptocurrencies with our counterparties. For example, we can buy a token by paying ETH for it. ETH in our wallet is transferred to the performer, and tokens from his wallet are sent to ours.
Cryptocurrency exchanges in a decentralized form are definitely more secure than their centralized counterparts. The lack of a single centralized storage space reduces the risk of system failure or loss of funds.
Even the best of the CEX can be hacked and, as a result, the funds of many users will be irretrievably lost. This situation will not be possible in the case of a DEX. On DEX platforms, each user has full control over their private keys they are not stored on the exchange.
Another advantage of a decentralized exchange is resistance to any censorship. DEX platforms are not subject to censorship or applicable law. They are not owned or controlled by one person, and therefore the government does not have the authority to pressure or control users' transactions.
This is one of the main reasons why many users from China switched to DEX platforms after the ban on cryptocurrencies and mining.
The main drawback of decentralized cryptocurrency exchanges is their limited functionality. DEX is definitely lacking some very useful options. For example, there is no stop loss function, trading with leverage (there are platforms that offer small leverage, up to x25), as well as many others, which, unfortunately, are attractive to many traders.
Some decentralized cryptocurrency exchanges are already working on adding additional features to help users, but it may take a long time before their final implementation.
Decentralized exchanges are also quite difficult to use, but their user interface is getting better and better every day.
Another significant drawback is the inability to use fiat currencies.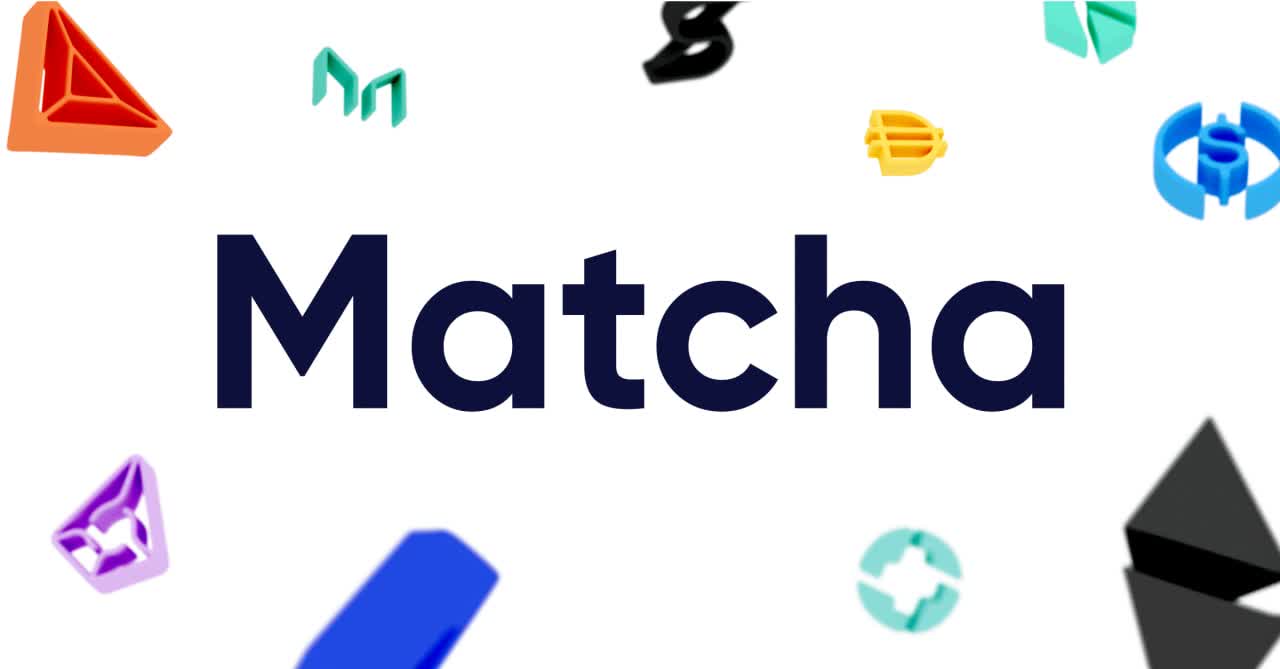 What is Matcha?
Matcha is a representative of DEX platforms. Moreover, it is not just an exchange, but a DEX liquidity aggregator. The platform collects liquidity from other exchanges and directs its clients' orders to those platforms that offer the most favorable conditions.
Matcha is not only convenient, but also beneficial. You save your time and money as you do not need to look for the best deals. Working through Matcha you always know that your exchange will be made at the best price.
Therefore, if you did not know before what a liquidity aggregator and what is Matcha. You should definitely explore these platforms in more detail.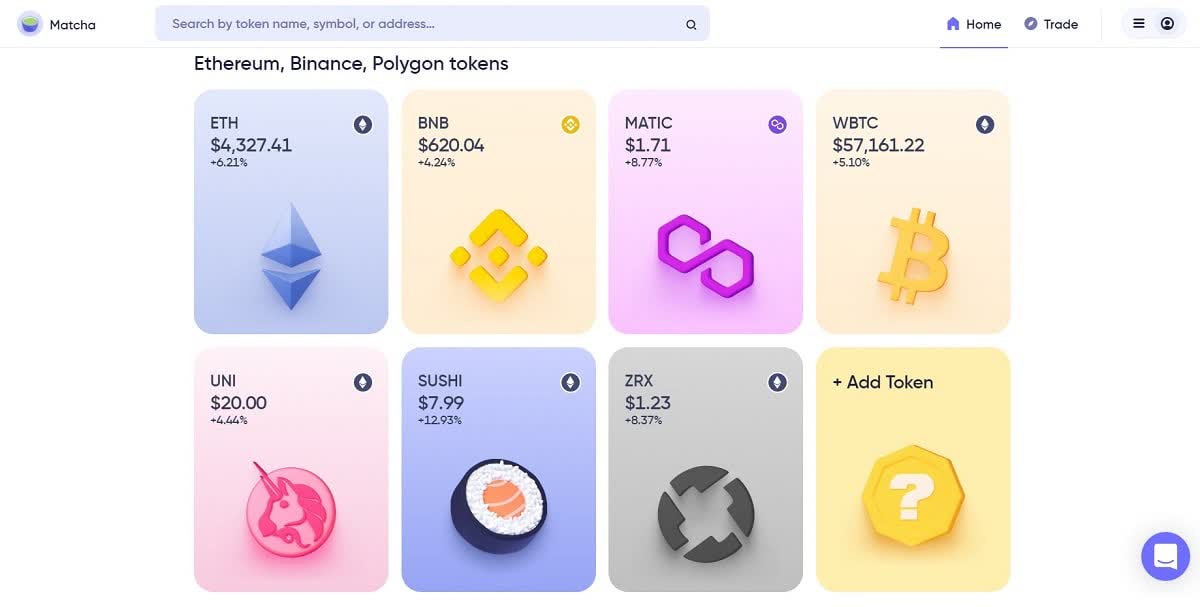 Available assets
The list of assets available for exchange on Matcha is still limited. Currently, there are about 20 tokens available on the platform, but this list is constantly growing. Developers connect new exchanges and add new tools.
Types of orders
The main purpose of Matcha is to provide clients with the most favorable exchange conditions. Therefore, Matcha is primarily used for exchanging tokens, not for trading.
Based on this, the two main orders on the platform are buying or selling an asset.
In 2021, a new feature was added to the platform, limit orders. But so far they are not available in all cryptocurrency pairs where ETH is present.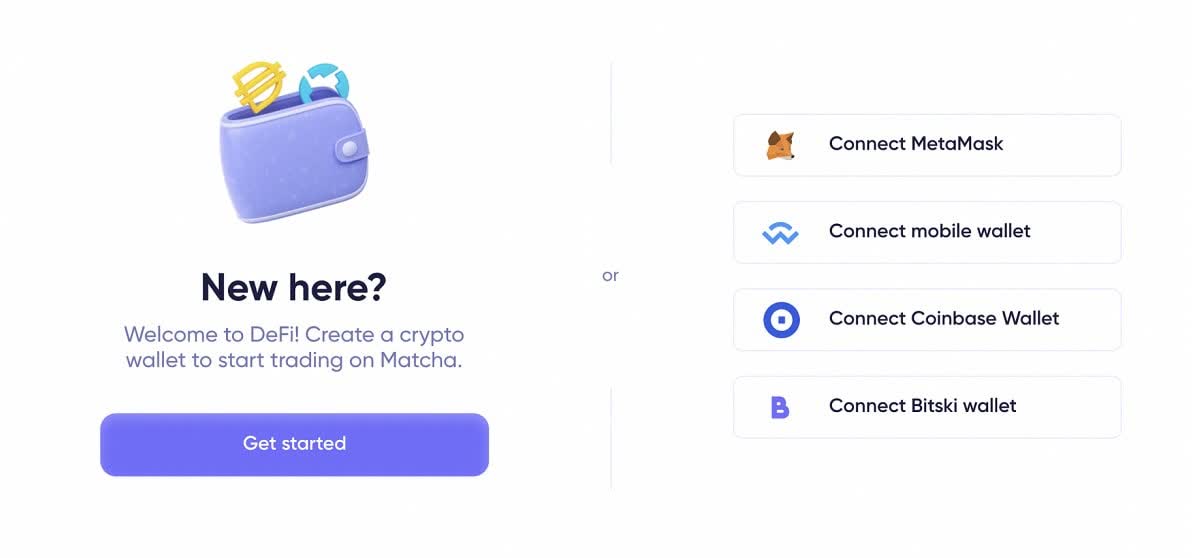 Supported wallets
How to trade on Matcha? The first step is to connect a cryptocurrency wallet to the platform. The platform currently supports the following wallets:
MetaMask.
Coinbase Wallet.
WalletConnect.
Bitski.
Matcha fees
The platform is shareware. You do not need to pay to use the platform, but you will have to pay for Ethereum gas costs and 0x protocol fees.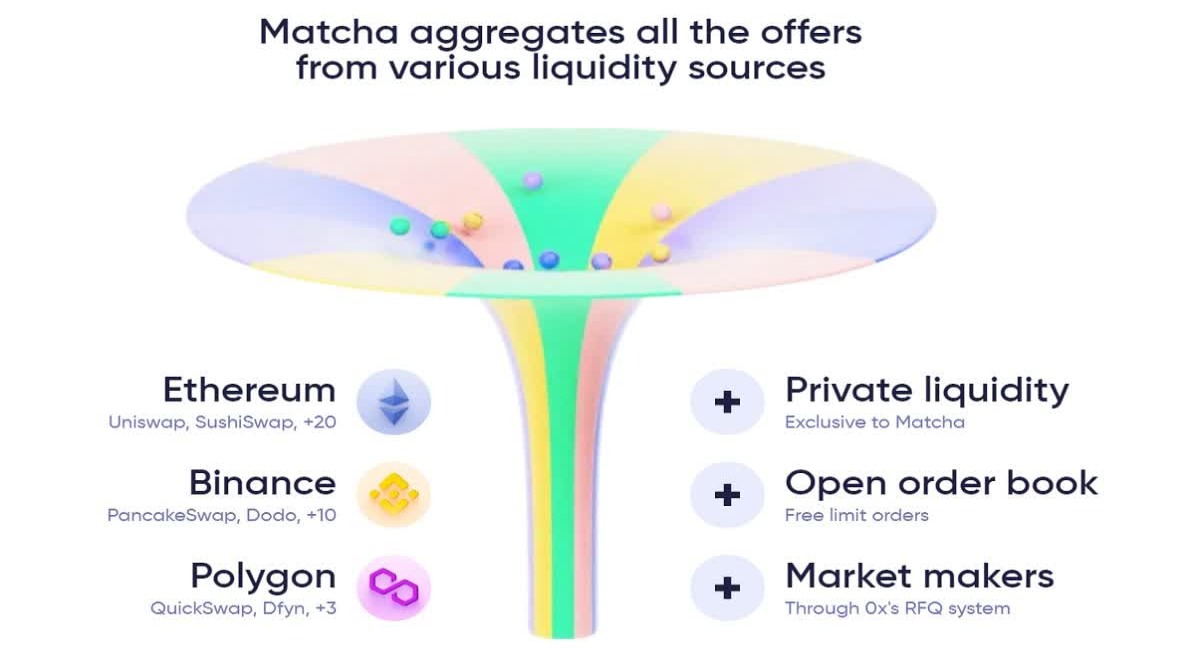 Matcha's features
The Matcha trading platform was developed by the infrastructure provider for decentralized exchanges 0x. Matcha became a logical continuation of the development of their project.
When placing an order on Matcha, it breaks down several components in search of the best price among various DEXs, including 0x Mesh, Uniswap, Curve, Oasis and a number of other "own sources of liquidity".
Matcha is designed to solve the problem of the so-called "slippage" the discrepancy between the expected price and the price at which the transaction is made.
Benefits of Matcha
Compared to other exchanges, Matcha offers its clients more favorable conditions for making exchange transactions. When you trade on Matcha, you are actually trading on over 30 platforms at the same time.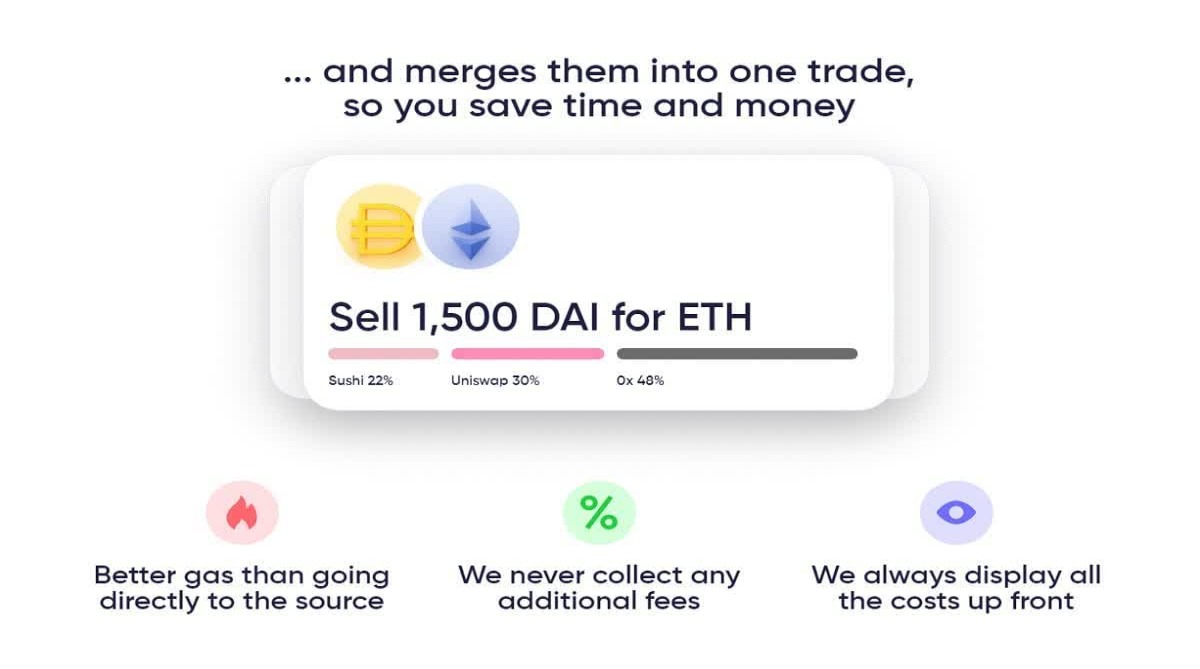 How to start trading on Matcha in Hong Kong?
How to trade on Matcha in Hong Kong and can you trade on Matcha in Hong Kong? Yes. Despite certain prohibitions and restrictions, the Matcha trading platform is decentralized. This means that it is anonymous for use and safe for users.
Therefore, if there is a ban on the use of centralized exchanges, Matcha is a good alternative. If you don't know what is Matcha, you should definitely familiarize yourself with this platform.
Connect wallet to Matcha
To start trading on any DEX, you need to connect a cryptocurrency wallet. Matcha does not support all wallets, but those wallets that can be connected to the platform are quite popular.
To connect any supported wallet, you need to click only one "Connect" button. In a few seconds, your wallet will be connected to the platform, and you will be able to fully work with the platform.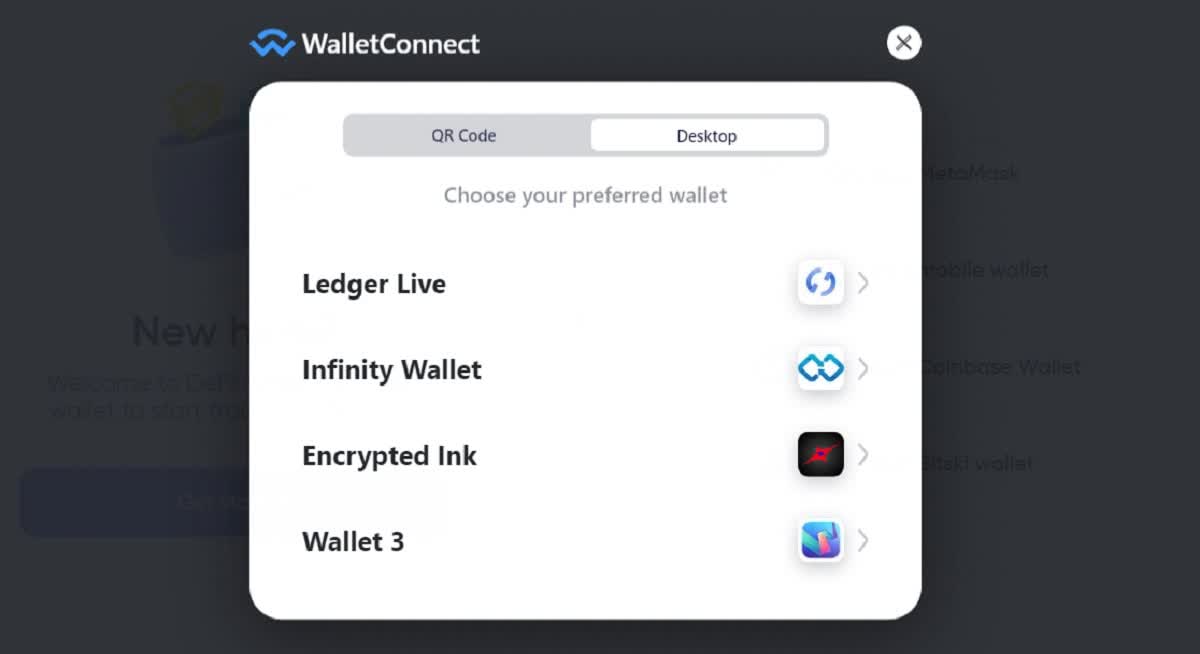 MetaMask
MetaMask is a cryptocurrency wallet that can be used in Chrome, Firefox and Brave browsers. It is a browser extension that acts as a bridge between regular browsers and Ethereum.
Thus, the MetaMask wallet can be used to store keys for Ether and ERC20 tokens on three different web browsers. It also allows users to view the Ethereum blockchain from a standard browser. MetaMask does not require a login and does not store your private keys on the server; instead, they are stored on Chrome and protected with a password.
MetaMask also easily connects to Matcha.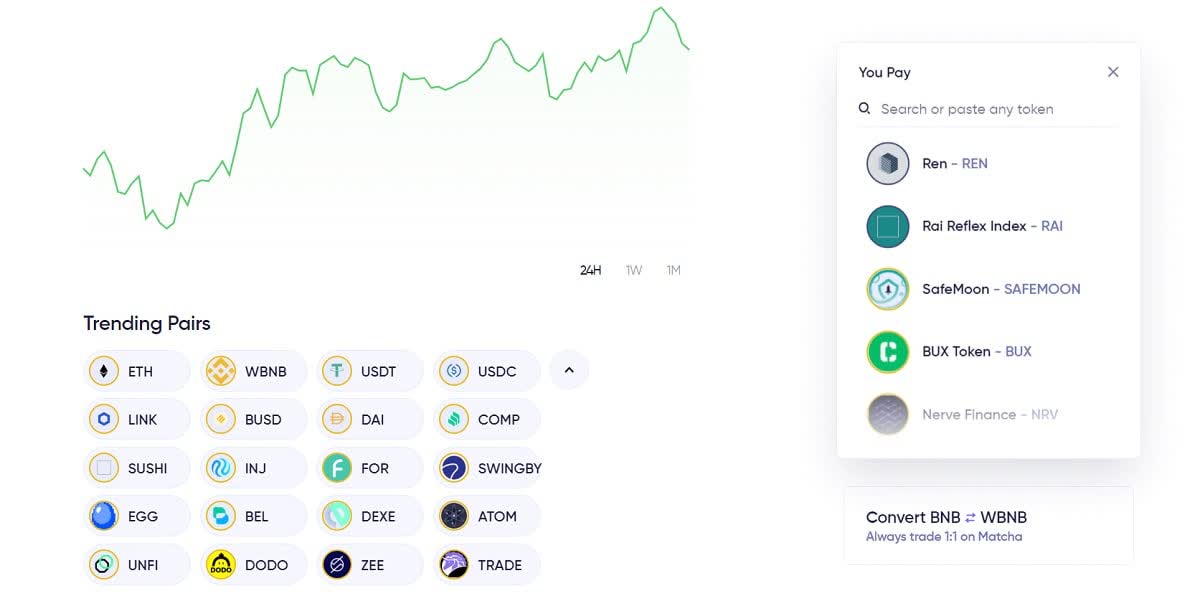 Coinbase Wallet
Coinbase Wallet is a mobile wallet for storing cryptocurrency. Despite the fact that it was developed by Coinbase, you do not need to create an account on the exchange to open a wallet.
Coinbase Wallet also easily connects to Matcha.
WalletConnect
WalletConnect is not just a cryptocurrency wallet, it is a web3 standard for connecting blockchain wallets to decentralized applications.
WalletConnect is not an application, but an open protocol for securely exchanging data between wallets and Dapps (Web3 applications).
The app also easily connects to Matcha.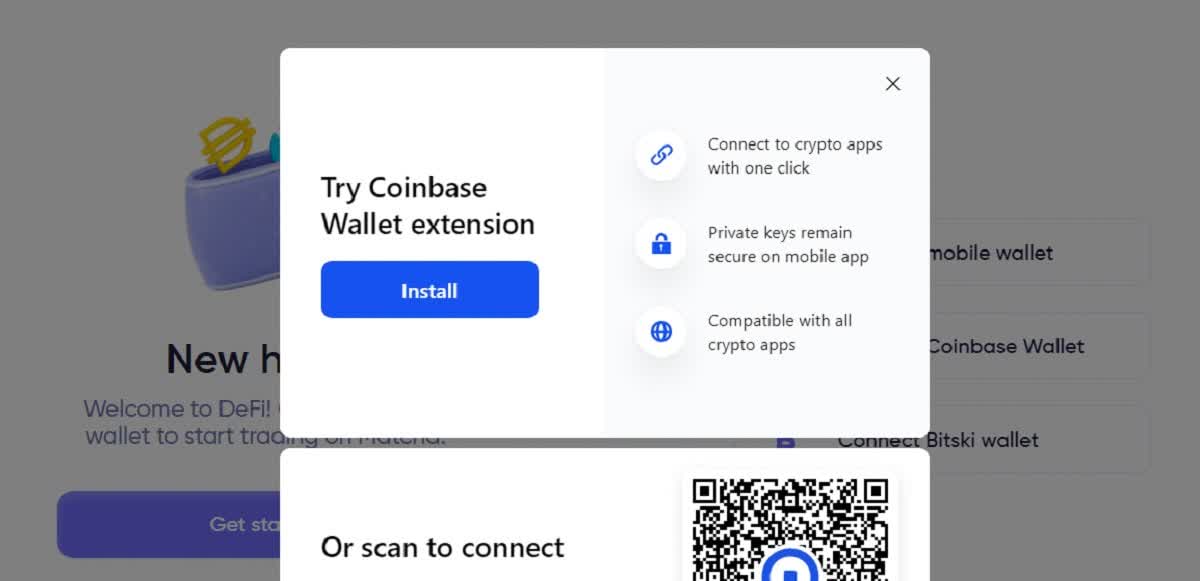 Bitski
Bitski is a less popular application than the previous ones, but it is no less convenient web wallet. It also connects very easily to Matcha.
Find the trading pair to trade
The most popular exchange tools are presented on the home page of the Matcha website. By clicking on any of these instruments, you will be taken to the "Trade" section, where you can see the entire list of traded tokens. Now there are about 20 of them.
Make a trade
How to trade on Matcha in Hong Kong? Everything is very simple. Connect the wallet to the platform. Go to the "Trade" section. Choose the exchange instruments you are interested in. And send a request for an exchange.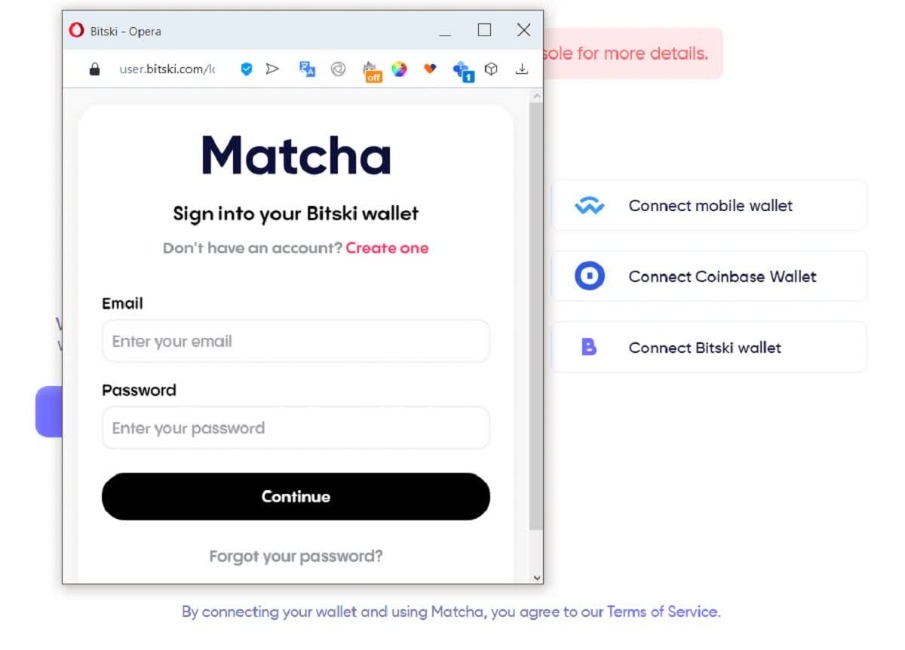 Alternatives to Matcha
Currently, 1inch and Paraswap offer similar solutions. The 0x believe that Matcha has a competitive edge, including a streamlined order routing system and a user-friendly interface.
Matcha FAQ:
How does Matcha offer the best prices?
When placing an order on Matcha, it breaks down into several components in search of the best price among the various DEX.
How is Matcha different from other exchanges?
Matcha has competitive advantages, including a streamlined order routing system and a comfortable user interface.
What kinds of users and organization types does Matcha work with?
The platform does not place restrictions on use for individual users or organizations.
What languages ​​does Matcha support in their product?
Currently, the platform only supports English.
What other applications or services does Matcha integrate with?
The platform is integrated with over 30 exchanges.
What type of training does Matcha provide?
The platform is very simple and does not require additional training.
How Matcha is safer to use than a centralized exchange?
The Matcha trading platform can provide a higher level of security and privacy.
Where can you use Matcha to trade?
First, the platform should be used for the exchange of tokens.
What exchange networks does Matcha aggregate liquidity from?
The platform collects fluidity from over 30 sites. Including the most popular DEX exchanges.
What Ethereum wallets are supported?
The platform can be connected to:

• MetaMask.

• Coinbase Wallet.

• WalletConnect.

• Bitski.

How do you connect Matcha to Ledger?
Ledger cannot be connected directly to Matcha. To do this, you can use Metamask.
How does Matcha connect to Metamask?
Click the "Connect Metamask" button.
Is Matcha crypto safe?
The platform provides a fairly high level of security. All your funds always remain in your wallet. They are not passed on to Matcha.
SIMPLE AND RELIABLE
MONEY WITHDRAWAL
GENERAL RISK WARNING:
The financial services provided by this website carry a high level of risk and can result in the loss of all your funds. You should never invest money that you cannot afford to lose