Investing in binary options
What is binary options?
Lots of newcomers often ask their more advanced colleagues how to start a career as a trader. The answer is simple: start with the basics, learn the basic terms and concepts, then learn trading strategies, and then act.
So, a binary option is an option that determines the outcome of a trade as 0 or 1. In other words, it is a derivative financial instrument, characterized by quick terms of transaction, in which the trader is offered to predict one of two variants of market behaviour in relation to an underlying asset.
In order to make money on online binary options, one has to determine whether the price will be higher or lower for a given period. Unlike other ways to earn from a broker, investing in binary options is easier and faster, all you need to do is make a correct prediction.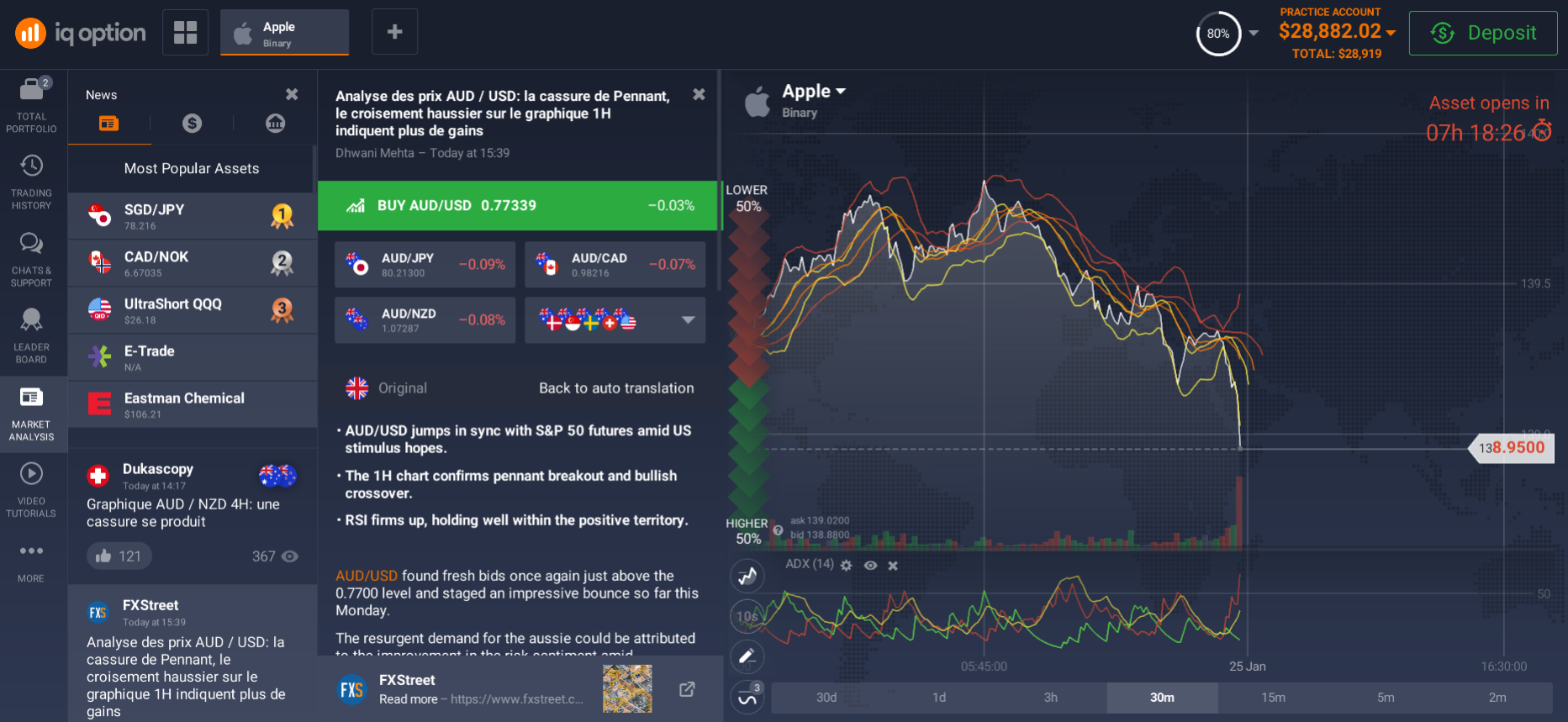 For example, you have chosen a stock in a company and made a prediction about its growth in the next 30 minutes. To earn on your prediction, you must open the broker's website, select the desired stock and invest in an up option (prediction of price increase) for 30 minutes. If in 30 minutes, at the time you close the option, the stock goes up by even 1 point, you get 60-95% profit on average! The exact profit percentage will be given upon conclusion of the trade.
Binary options are quite simple for beginners, because there are no complications, there are only 2 buttons - UP - predicts a price rise and DOWN - predicts a price fall.
Base assets offered by brokers can be stocks, currencies, indices, bonds, commodities and other assets. Some stock exchanges around the world even offer to buy weather options. That is, anything that is subject to change in numbers can actually become an asset.
Many brokerage firms offer charts and interactive tools to help you understand how a particular trade will affect your portfolio.
What is the binary options market?
The market includes the asset itself, its consumer and supplier. In this case, the participants of the market are traders and brokers; they provide you with a trading platform, with a terminal for the transaction. And this is a very important part for a trader, you need to choose a good platform.
Explore the different platforms that brokers offer. Each one of them works in a different way. You should be aware of the individual features offered by each platform as well as the services it offers. The variety of trading options that brokers offer can vary greatly. Each broker may also offer different binary options conditions and different assets.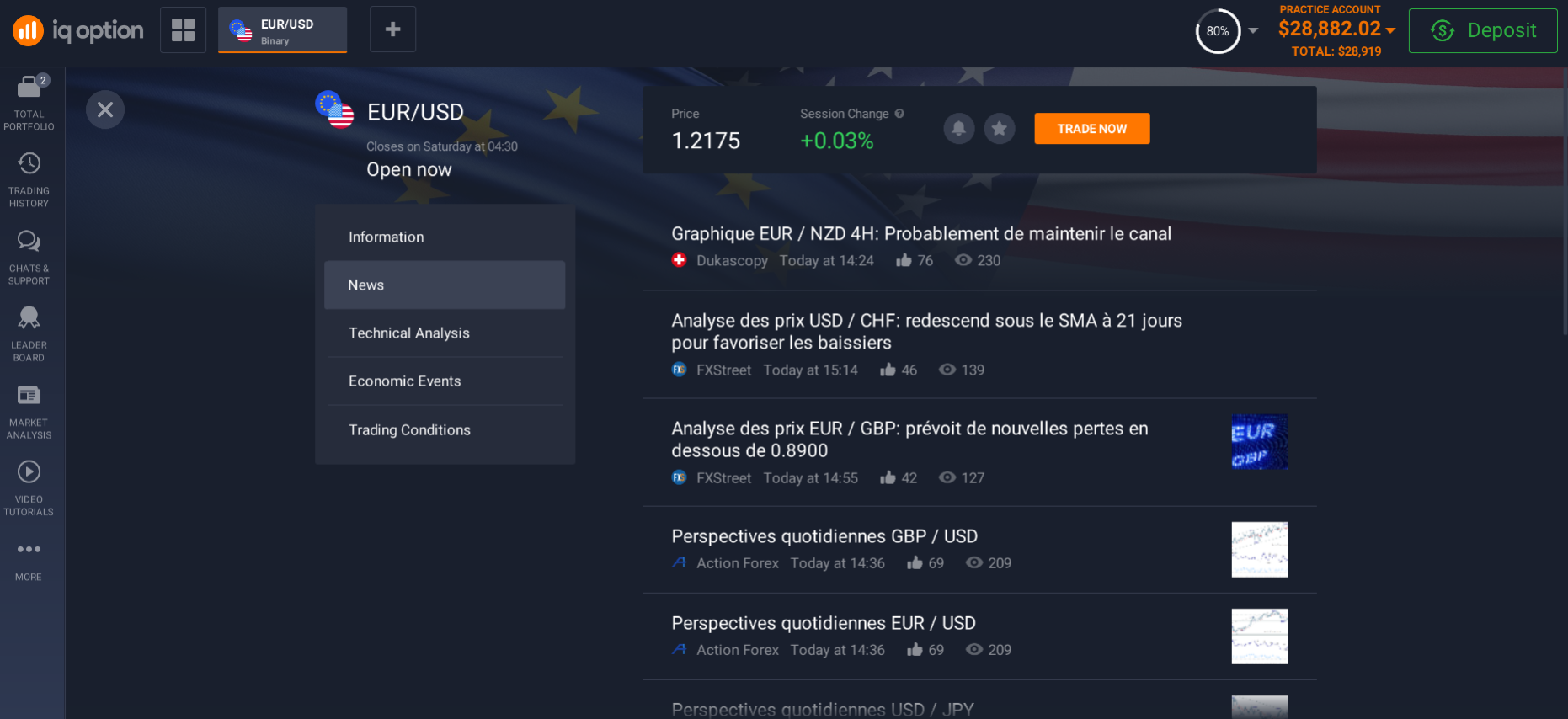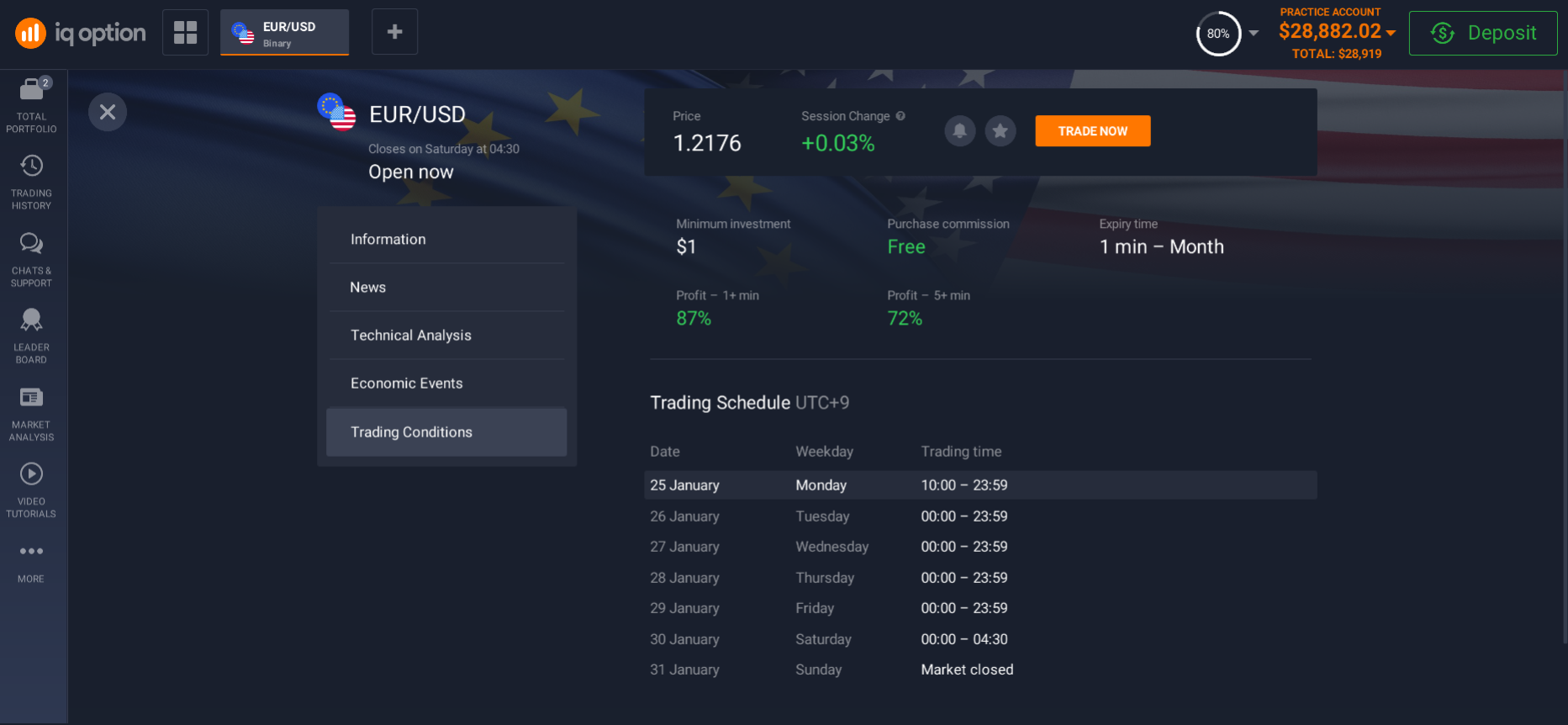 Trading binary options on news
Most brokers offer both short term and long term options. The most popular options range from 30 seconds to 1 day.
Expiration time is the time you anticipate when the price of your underlying asset (strike price) will change from the price at the time of the trade.
There is a wide range of possible strike times, from 15 seconds to the end of the month. At some brokers it is possible to set your own expiry time (e.g. 7 minutes, 38 minutes, etc.), in general non-standard.
By the way, trading with a short exercise time (from 15 seconds to 5 minutes) is called scalping.
What is a binary options broker?
You should be aware of the particular features offered by each platform as well as the services that each platform offers. Brokers who offer binary options provide investors with financial information, news and signals so that they can make proper decisions with regard to their investments.
Your binary options trading platform will enable you to make several trades at the same time. You have to be able to make quick trades. Many brokers offer charts, indicators and interactive tools to help you understand how to make a prediction. These tools can help you increase your chances of success.
How can you tell if a broker is skilled at what they do? Take a look at the portfolio. Look at the types of assets represented as well as the number of trades made. Also, a broker should have a license and preferably a helpdesk, which also tells you that they take care of their clients, because you don't want to be left alone with a sudden technical difficulty.
You can test many brokers before you decide which one you want to use. To find the right broker, sign up for a demo account before you open a trading account.
What is a binary options trader?
A trader is a person who is trying to profit from the process of trading. In case of options, we try to take profit by guessing the direction of market price movement and the time when the movement will happen.
A trader dedicates a lot of time to analysing the news and charts, searching for trading opportunities, and supporting the trades. It helps to have an analytical mind and a balanced temperament, as well as the ability to calmly accept possible losses.
As in any other business, you will need to be trained in trading before you become proficient at it. It is important to find the right training materials.
On the broker's website, you can get basic training through videos and relevant sections that will answer your questions.
Never stop learning and gaining knowledge, you can take it from courses, books, articles, even chats with other traders.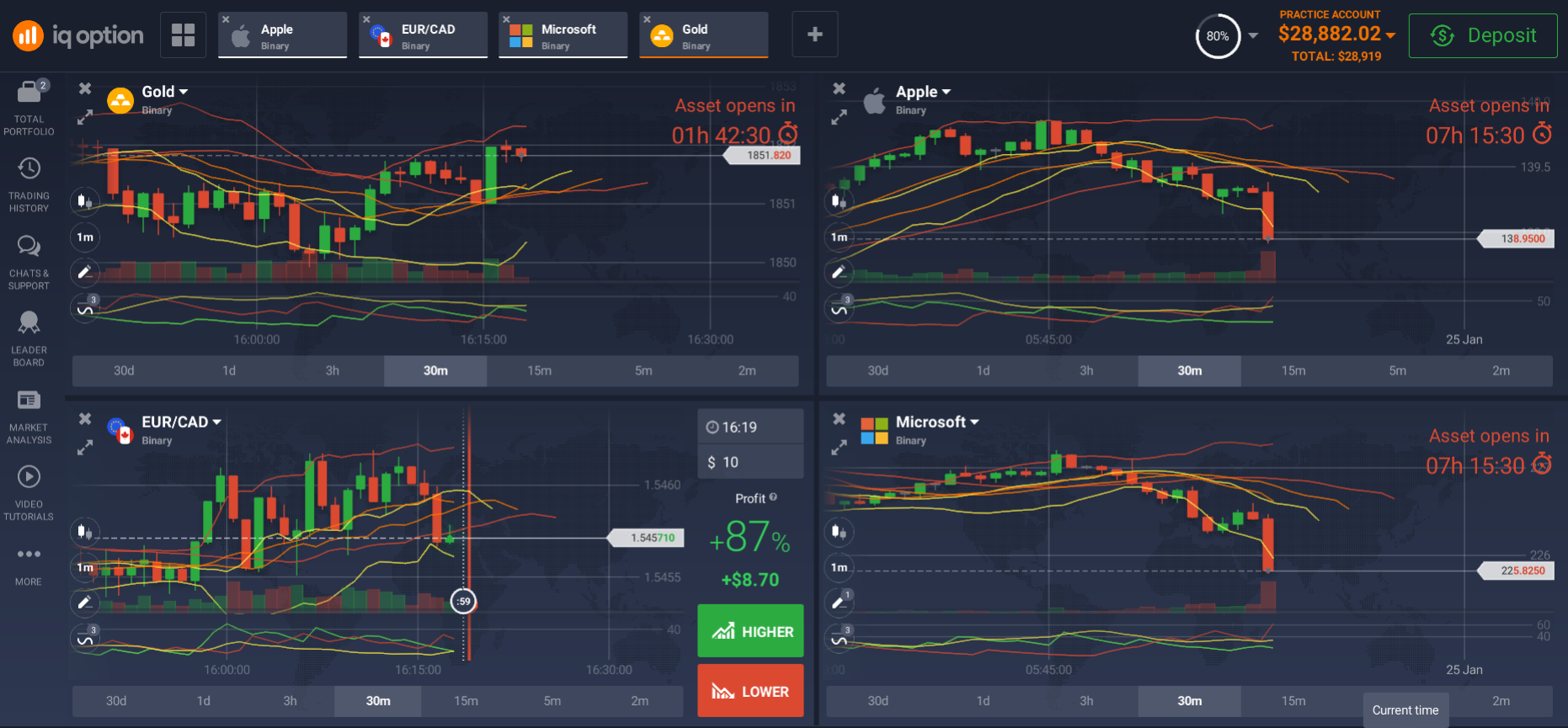 What is binary options trading?
Successful trading is based on in-depth asset analysis, which helps predict price movements and gives profits. Technical and fundamental analysis are used depending on the timing of the trades. In order to make a forecast, it is sometimes enough to hear the news about your asset, and sometimes it is enough to compare your opinion with the opinion of other analysts and technical analysis data. Ideally, you should be able to use all types of analysis in order to forecast price direction comprehensively and as accurately as possible.
Technical analysis of binary options is also called chart analysis, as it makes price predictions based on past prices.
They use charts and history of the asset's price. This analysis is also basic and very important, as it gives a clear indication of which direction the price is going, up or down. This kind of chart determines the current trend: upward or downward. There are many different tools, such as indicators or special chart patterns, to determine whether a trend is up or down.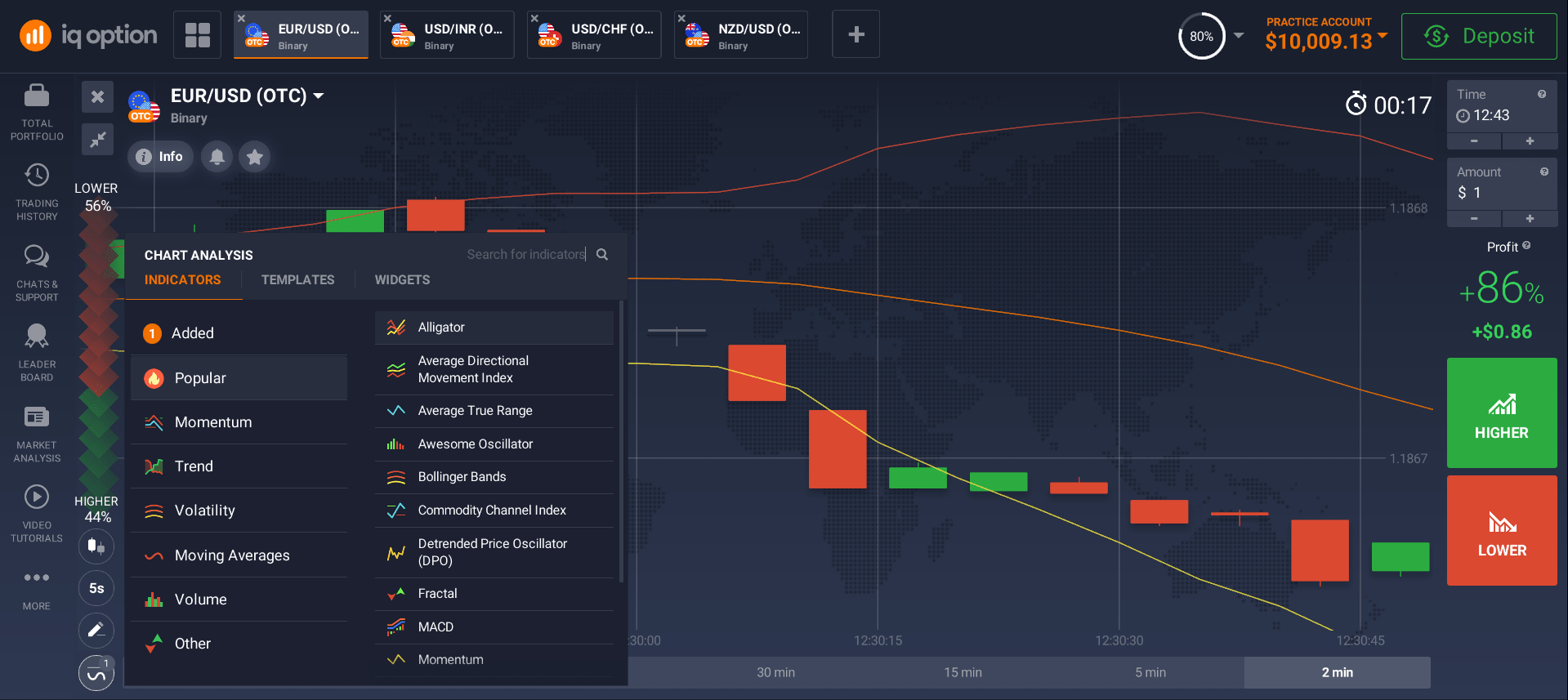 The most successful trades are often based on trend trading. Finding a trend is what most binary options strategies are based on, so it is hard to overestimate its analysis.
Fundamental analysis is based on real events, current economic conditions, political conditions and also external factors, which do not depend on human actions. Such factors may be, for example, natural phenomena: floods, tsunamis, earthquakes. These events can affect the price and general condition of national currencies or specific organisations.
News is an important aspect of working with binary options. Many people do not pay much attention to it. News related to currencies and news about the government can affect the market.
On the platform, you will find an economic calendar, which will tell you which news is of great importance and can affect the price of any particular asset.
Types of Options
To understand better what is trading binary options all about, you have to know all the different types of this tool. At the heart of each of them is one thing - to guess the price. But each one has its own nuances that you have to know. Every brokerage platform offers different types of binary options. Let's get acquainted with the most famous types, which are used by the world's leading brokers.
Classic. Exactly, classic binary options became the basis of a new trading industry, which appeared a few years ago. Exactly them the vast majority of traders trade. The trader, by pressing the Call or Put buttons, selects one of two possible directions of quotations movement. When at the end of the deal time the value of the underlying asset changes into the declared value, the pre-determined profit is transferred to the trader's account.

One touch. In this case, instead of the Call or Put buttons, the trader chooses between options with or without touching. The brokerage company sets a specific price level. The trader needs to predict whether the quotes will reach this predetermined level.
Boundary. Trading is performed according to the following rules. A brokerage company specifies a certain price corridor or range. In other words, the broker determines the boundary, which the price of the underlying asset will not cross at the end of the transaction. The trader needs to make a prediction as to whether the quotes of the asset will stay within the given limits or leave them.
Turbo. These are the same as the classic options, which have only one difference - a very short expiry period of the deal. Originally, there were 60-second investment instruments. Their popularity surpassed all expectations. Then, individual brokers took the next step by creating 30-second binary options.
Pairs. The idea of the considered option is that the trader needs to predict which one of two underlying assets will sell better within the specified period of time. In terms of profitability, this contract is comparable to the classic.
If you don't have much experience in this field, try out different types of binary options with small financial investments and find the tools that work best for you and that will give you a stable income in the future.
Where to trade binary options in Hong Kong?
Now that you are familiar with the terms and understand who a binary options trader is, it's time to get acquainted with the trading platform and soon, you can start trading.
The advantages of using a broker include the fact that you will be able to trade binary options from the comfort of your own home. This means that you can follow the market trends all through the day.
The first thing you need to do is to register on the platform in Hong Kong. It's simple, and it's free.
Click on the register button, enter your details and follow the instructions. Then activate the link in the email. After registering, you can open an account to trade and get to know the platform better.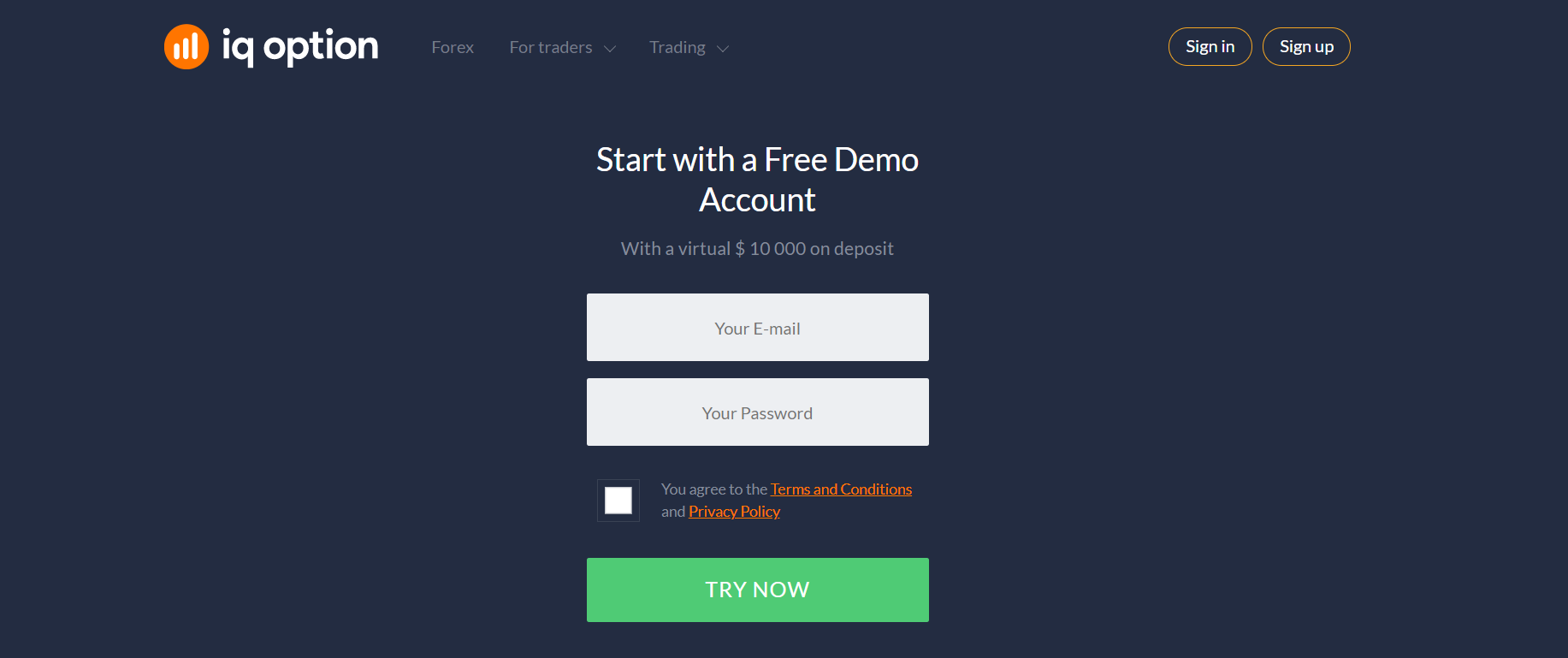 Demo account
It is important to set up a demo account before you place any real bets. You can then see how the system works and make sure that your judgement on the trade is correct. This will allow you to decide whether or not you want to invest in binary options.
The trader, after becoming familiar with it, begins to understand how and when to buy a binary option, taking into account the necessary parameters. The trader gradually learns the basics of the market and moves on to real money trading.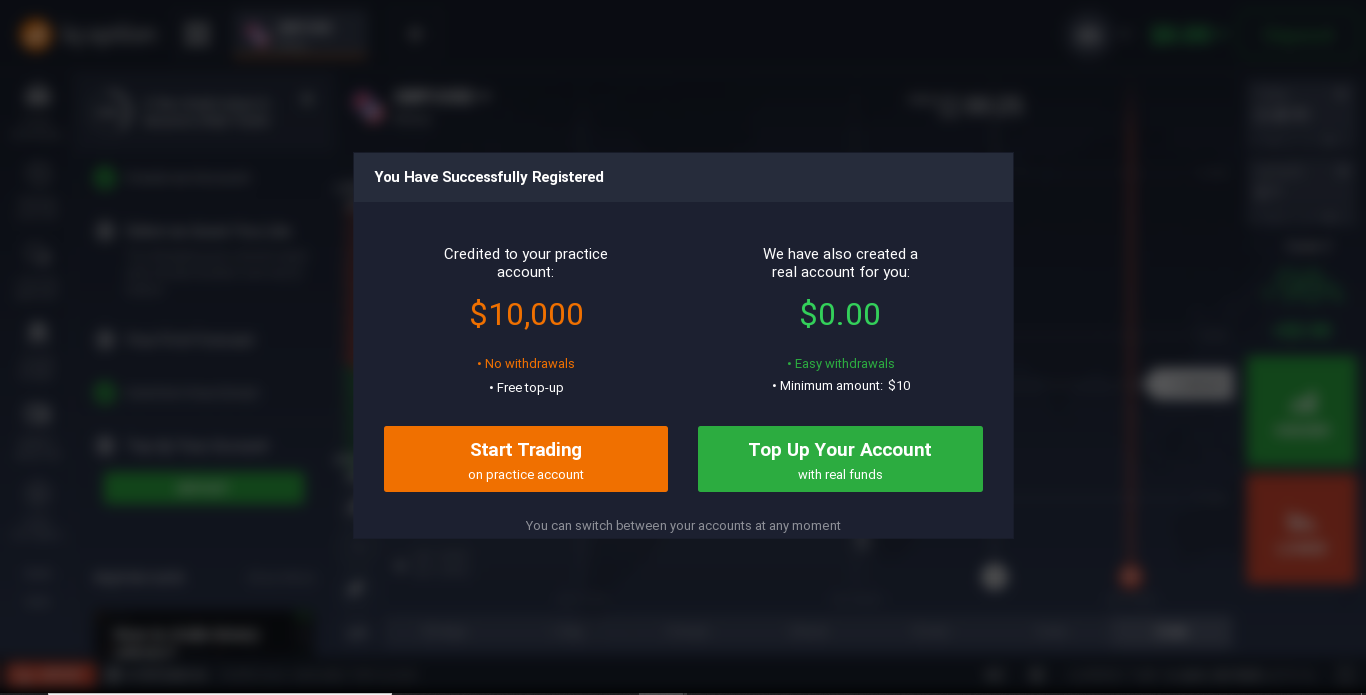 Brokerage account
When registering a brokerage account, all you need to do is to enter additional data about yourself and make a deposit into the account. Generally, brokers ask for a small minimum deposit, which is available to any trader.
You can also use leverage, if you need to, when you open an account, in case you don't have enough money, but you know for sure that the trade will be worth it. In this case, the broker will lend you a loan in the form of funds in the account, against a deposit.
Try to start your trading with micro amounts. Many experienced players will give you such advice, and also remember to follow the rules of risk management. Here is one of the most important rules: bet up to 5% of your deposit. Betting no more than 5% of the amount in your account ensures control and preservation of funds. Beginners should be even tougher on themselves, limiting their betting to no more than 1% of the deposit. Then gradually increase your bets, good luck!
SIMPLE AND RELIABLE
MONEY WITHDRAWAL
GENERAL RISK WARNING:
The financial services provided by this website carry a high level of risk and can result in the loss of all your funds. You should never invest money that you cannot afford to lose