Buy Ontology (ONT) in Hong Kong
Ontology is more than a cryptocurrency. It is a data protection network based on public collaborations supported by blockchain technology that offers large companies and small entrepreneurs the possibility of creating their own blockchain, decentralising data exchange processes and generating trust in both customers and businesses.
The best advantage of this system is that it allows transactions to be transparent and collaborative, and that data will always be available to users.
How to buy Ontology (ONT)?
This application operates with two cryptocurrencies that are offered to users who collaborate with its blockchain: Ontology (ONT) and the Ontology Gas token (ONG). Onchain is the company behind this project, which comes from China and is staffed by blockchain experts who created the NEO chain.
Ontology was launched in 2017 and its main objective is to allow companies that wish to implement blockchain technology on their servers to do so without the need for an expert.
This cryptocurrency started trading on the stock exchange in March 2018 with a value of $2.5 and has a current price of around $0.94, it is present in a large number of exchanges and can be acquired through a variety of platforms, collaborating with the blockchain or investing in ONT contracts for difference.
Before understanding how to buy Ontology, it is important to have a dedicated brokerage platform or broker. These companies are responsible for acting as intermediaries for the buying and selling of assets listed on the stock exchange, including CFDs of this and other assets.
On the web there are many online trading platforms where you can invest in different financial instruments and enjoy various investment methods. Some of them also offer good options to increase the profitability of each order with the use of leverage and thus increase your profit on each move.
Once you have selected a broker, you need to go through the registration process to start using the platform and invest with any of the products offered on their website. On this site, you can buy and sell different assets and regularly monitor your investments, capital, analysis and results in one place.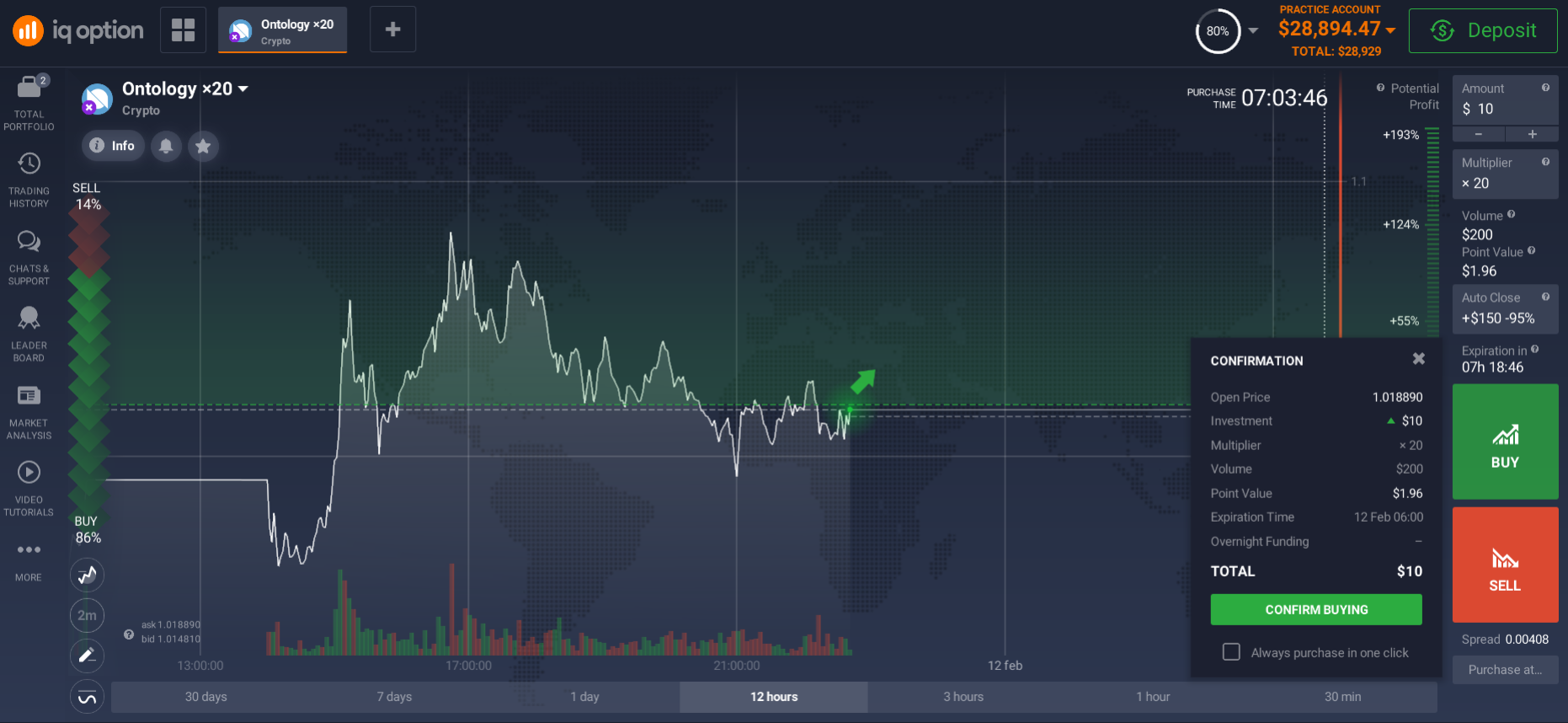 How to invest in Ontology (ONT)?
To understand how to invest in Ontology, keep in mind that these investments represent a good mid to long term capitalisation, and because this asset class does not have a long history that can be studied, you should pay close attention to its chart patterns and fundamentals around its industry, and have a good risk management strategy in place to hedge your capital in case you are affected by price volatility.
There are two ways to invest in Ontology in Hong Kong. You can buy cryptocurrencies through an exchange, or trade them through contracts for difference:
Buy Ontology: to get hold of this asset you must access an Exchange platform that offers ONT and have the total amount to buy each unit in fiat currency or other cryptocurrencies, i.e. if the current price of an Ontolgy is $0.94 you must have that amount to buy a coin. In this case you will benefit from the upward price fluctuation once the product is purchased. If, on the other hand, the price of the asset falls, this will represent a loss to your capital.
Trading contracts for difference of NTOs: by buying and selling these contracts, you can profit from both upward and downward movements in the price of the asset. Thus, your profits will depend on the entries and exits you make, i.e. buying when prices start to rise, and selling when they start to fall. To buy or sell ONT CFDs you only need to have a reputable broker to start trading.

By investing in ONT CFDs you can make good medium to long term investment opportunities by profiting from the price movements of this product.
Ontology Trading Platform (ONT)
There are a variety of online trading sites and platforms that offer a range of options for trading ONT CFDs and where you can trade other products. We suggest that when choosing a broker to invest your money in that you consider:
The regulations and licenses that govern the platform. Trust only those platforms that are licensed, regulated and supervised by trustworthy entities and governments and avoid at all costs those established in tax havens.
Minimum amounts vary from site to site. Before registering, make sure that these amounts are commensurate with your capital and investment objectives.

Deposit and withdrawal methods should be tailored to your needs and match those you intend to use.

Financial instruments vary from platform to platform. To buy or sell Ontology CFDs, you must locate the acronym "ONT" among the options present in the cryptocurrency category at the broker of your choice. In this section you can observe the current status of the product, have current charts at hand, perform a technical analysis of the asset and track your investment.

These platforms offer various leverage options that you can use as a springboard to start investing. It is important to carefully study your inputs to use them to your advantage and make good profits with this tool.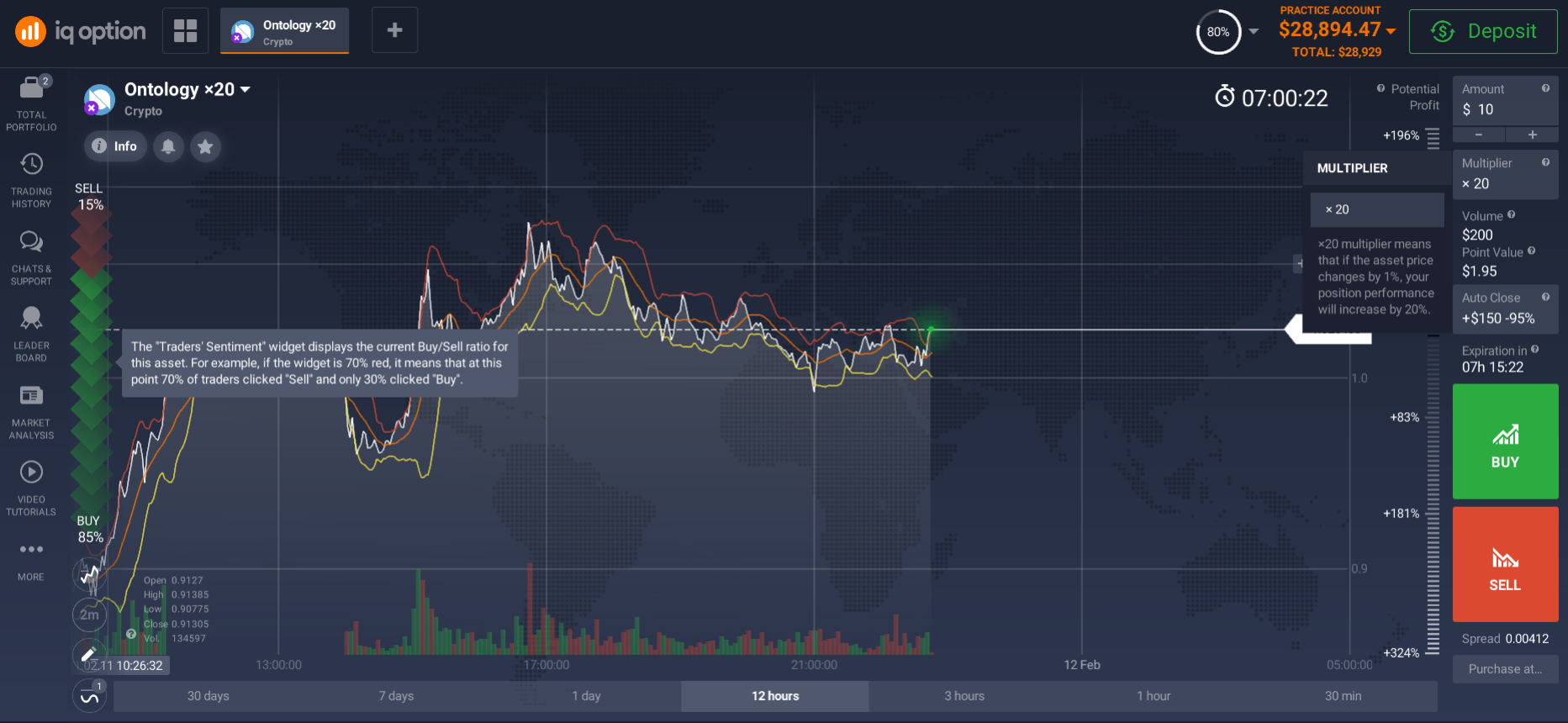 How to start investing in Ontology (ONT)?
To invest in Ontology, you need to:
Understand your situation in the financial markets and with respect to other cryptocurrencies or similar projects.
Establish a percentage of your capital to invest in this product.

Constantly analyse ONT's charts, recognise its peaks and understand its current price trend.

Choose a reliable broker, with a good interface that suits your needs. Register, deposit and start trading.

Actively and constantly monitor your investment.

Keep your technical and fundamental analysis up to date.

Be aware of changes to the blockchain system and usage policies announced by the company.

Be aware of the reputation, public image and news surrounding the company responsible for this asset.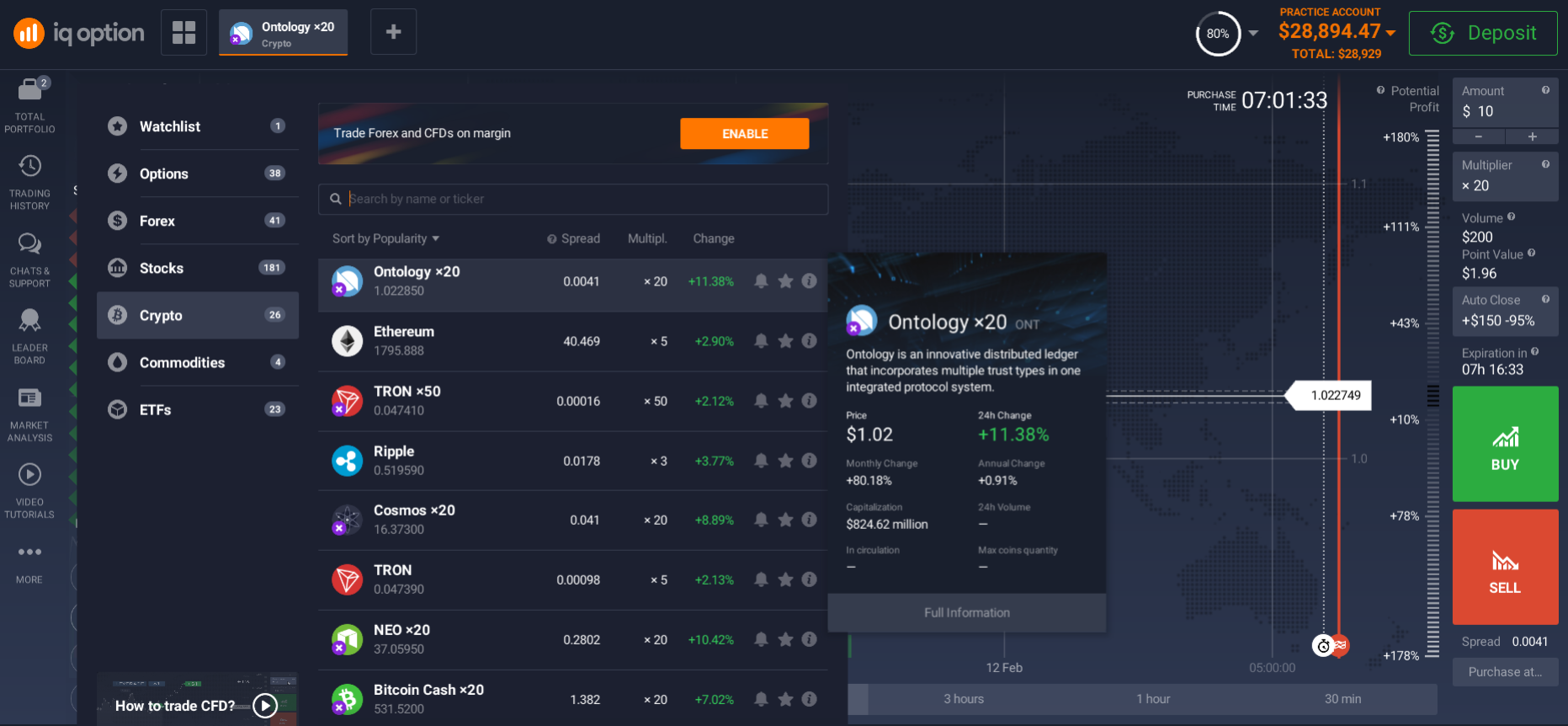 How to register?
This is a mandatory step to start trading on any properly regulated broker. Not all platforms require the same information for login, however, the vast majority of them usually agree on basic personal information including your first name, last name and email address.
A basic registration process for these platforms includes:
Enter the platform's website, locate the "Register" button, click on it and fill in the pop-up form with the requested data. You must then create a password to protect access to your account.
Enter the email address used for registration and look for a confirmation message sent by the platform. Click on the link that will send you back to the broker's website to log in.

Once you have completed this process, you will have full access to the platform to understand how it works, its tools, the financial instruments it offers and the information on each of these products.

You can start trading from your demo and live account according to your needs and knowledge.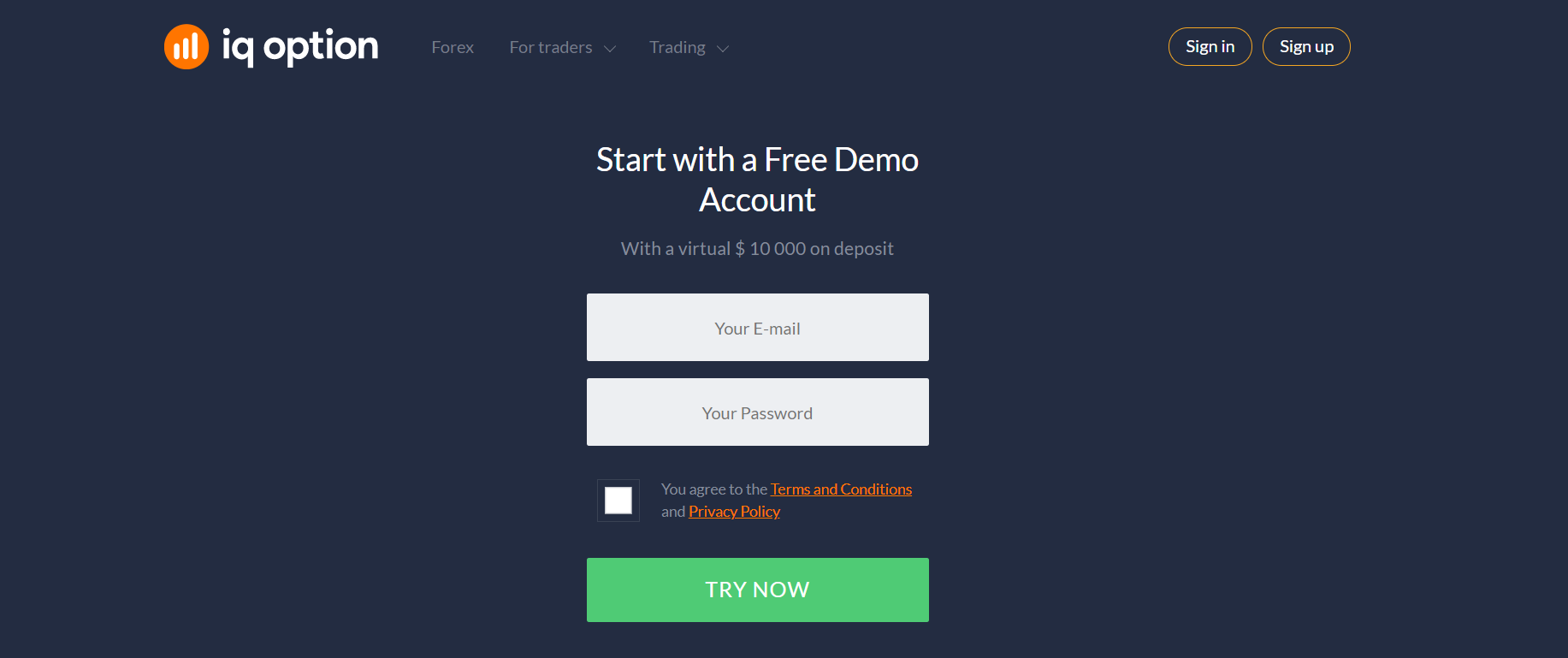 How to open a demo account?
This account is created at the end of your registration process. You can use it by simply logging in and it is intended for trading with fictitious money while you develop the right strategies to multiply your capital, while avoiding putting your money at risk.
How to open a real account?
Just like the demo account, it is created by completing the registration process on the trading platform. On the other hand, the live account requires a deposit of fiat money in order to be used and start generating real dividends. We strongly recommend prolonged use of the demo account to create functional and successful trading strategies.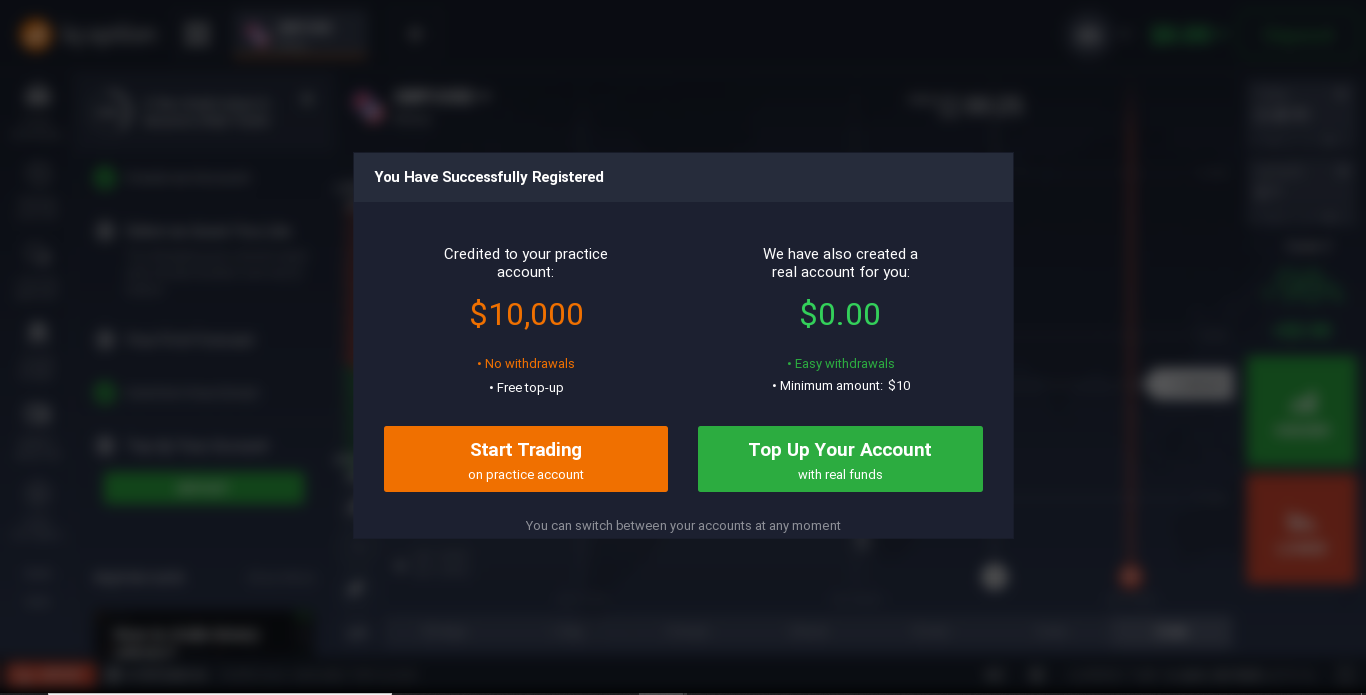 How to fund a deposit?
In order to start using your live account it is necessary to make a deposit on the platform. This process consists of simple steps that include choosing the payment method, deposit amount and approving the transaction. The most common payment methods on trading platforms typically include bank transfers, credit card charges, and in some cases, cryptocurrencies.
The minimum deposit amount, as well as the payment methods accepted and fees charged, vary from platform to platform.
Minimum deposit amount
The minimum deposit amount is the lowest payment amount accepted by online trading platforms in order to use the live account. This varies according to the policies of each company and it is advisable to familiarise yourself with them before completing registration.
Some platforms allow for as little as $10 to invest in cryptocurrencies, allowing less experienced investors to access the market without a lot of capital.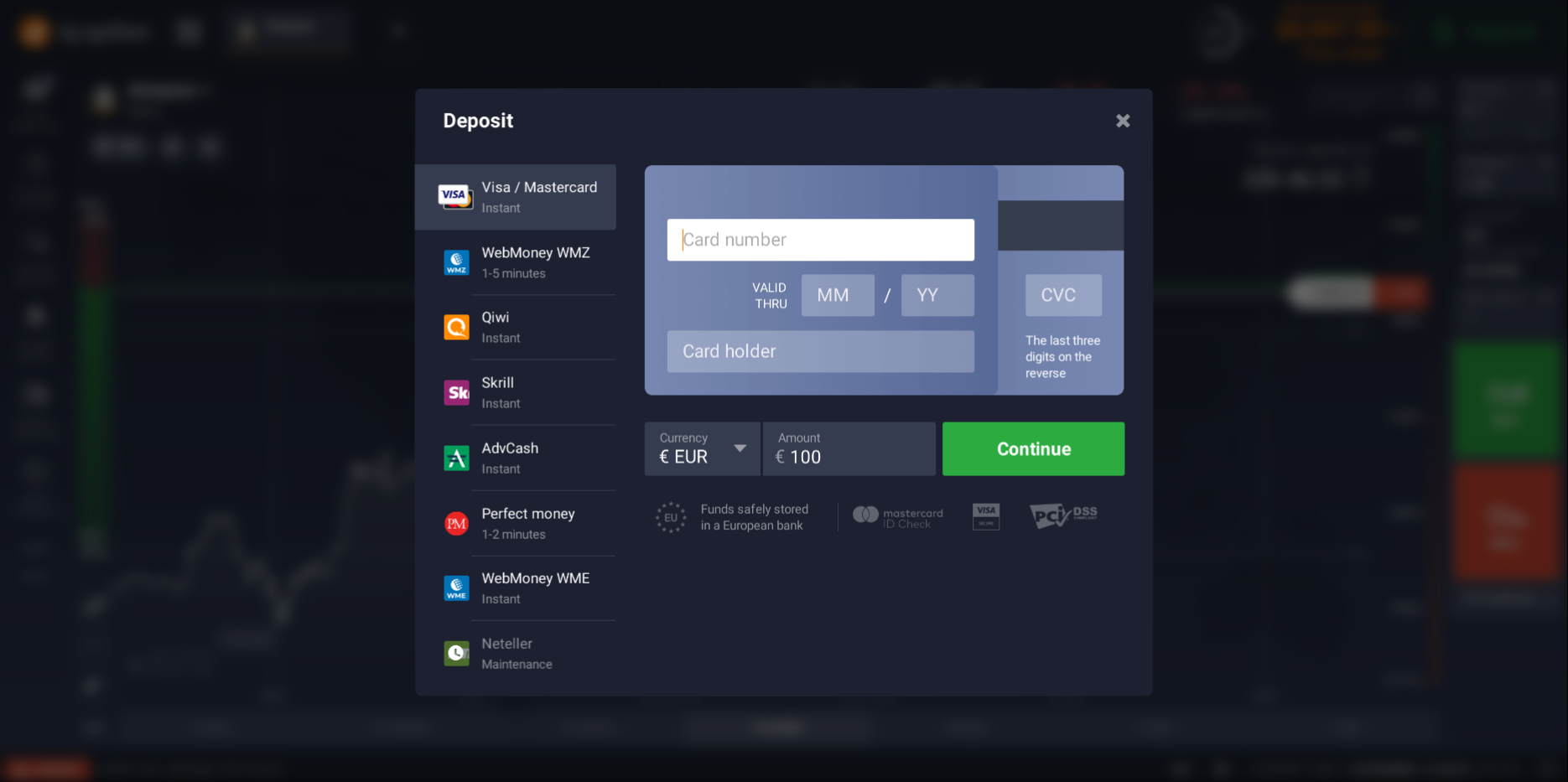 How to withdraw money?
Commonly, the deposit and withdrawal methods used by these platforms are usually the same. However, some platforms require withdrawals to be made through the same means used to deposit. That is, if you deposit from a credit card, you must withdraw funds to your credit card.
Security of Ontology (ONT) investments
ONT buy and sell investments are a great way to make money in the medium to long term. However, the success of your investments depends on your analysis and timely market entries and exits.
How safe is it to invest in Ontology (ONT)?
Buying ONT is considered a profitable investment, as it represents a good alternative for safeguarding and investing capital in the face of constant devaluations. It is also a promising project with good prospects for the future.
Is it safe to invest in Ontology online?
Using a reliable platform, continuously studying your market entry and exit opportunities, as well as price movements, will ensure the safety of your investment and a stable return in your favour.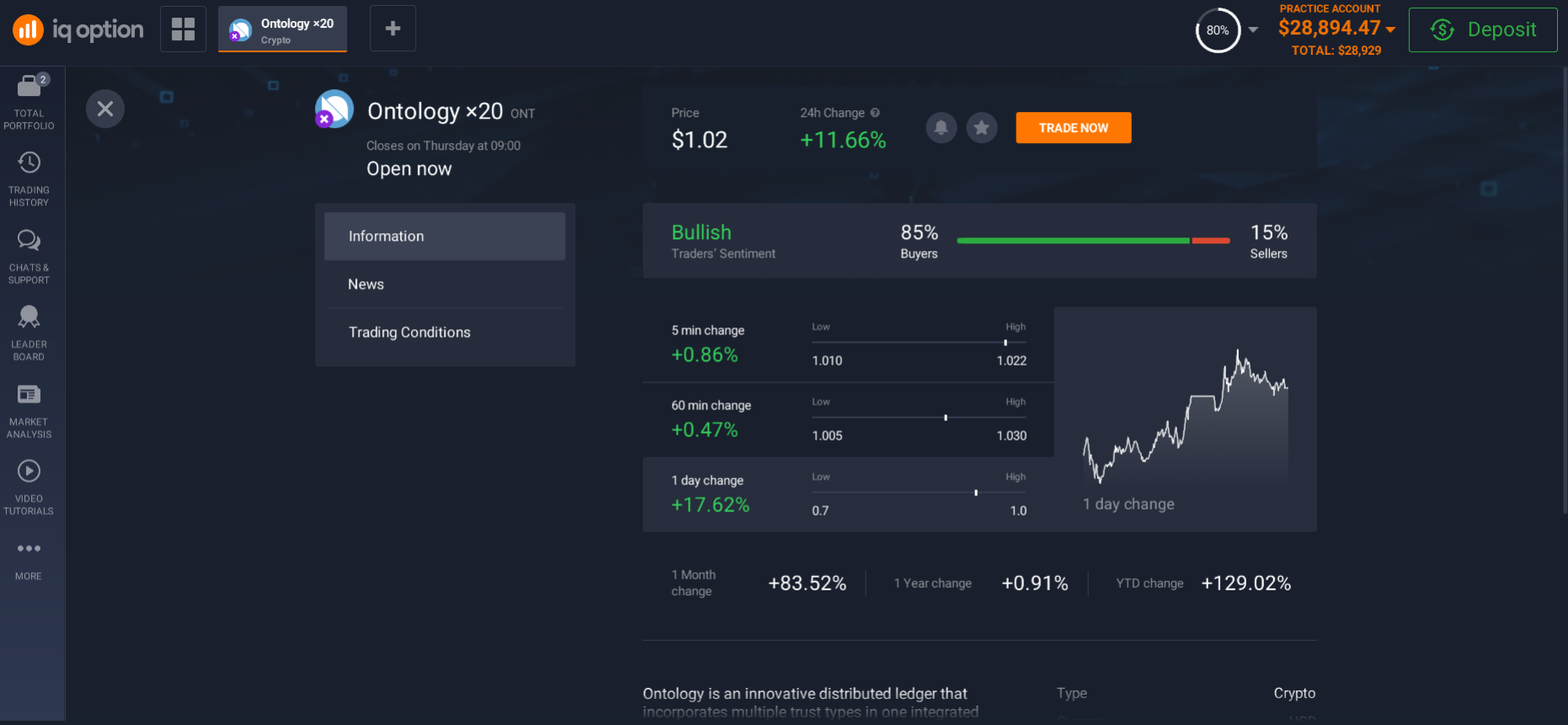 How to invest safely in Ontology online?
Being attentive to the news around this asset and its creator company, studying well the movements of the market, and avoiding getting carried away by moments of uncertainty will make each operation, a safe online investment.
FAQ:
Can you buy Ontology?
Today, with a little capital and access to the internet you can purchase this or other cryptoassets from the comfort of your home, either through an exchange or an online trading platform.
Is Ontology a good buy?
By buying ONT you not only safeguard your assets, but your data, your identity and your privacy in every transaction while investing in a project that puts the future within everyone's reach.
Is Ontology a good long-term investment?
While cryptoasset market movements are unpredictable, leading analysts consider ONT to be a great long-term investment.
Where can I buy Ontology?
By buying Ontology on any exchange or by buying ONT CFDs on your trusted platform.
How do I buy Ontology with a credit card?
Many brokers receive payments by credit card. By registering with a reputable broker that accepts TDC payments you can start trading Ontology easily.
How to buy Ontology in Hong Kong?
You can buy Ontology in Hong Kong from any reliable broker or exchange that offers trading with this asset.
What happened to Ontology (ONT)?
The price of ONT promises to rise gradually due to the trust it generates in its users and the usability of its blockchain.
Why did Ontology (ONT) fall?
Because of its strong competition with Ethereum and other strong coins that offer similar services to it.
Why did Ontology (ONT) rise?
Because of the projects proposed by the company that created the asset, which have made blockchain available to large and small businesses to upgrade their technology and implement decentralised applications in their operations.
SIMPLE AND RELIABLE
MONEY WITHDRAWAL
GENERAL RISK WARNING:
The financial services provided by this website carry a high level of risk and can result in the loss of all your funds. You should never invest money that you cannot afford to lose